If you are a data junky like us, you will certainly appreciate the fresh Global Digital Traveler Research 2017 by Travelport, based on interviews with 11,000 travelers from 19 countries worldwide. Here's a snapshot of the key findings.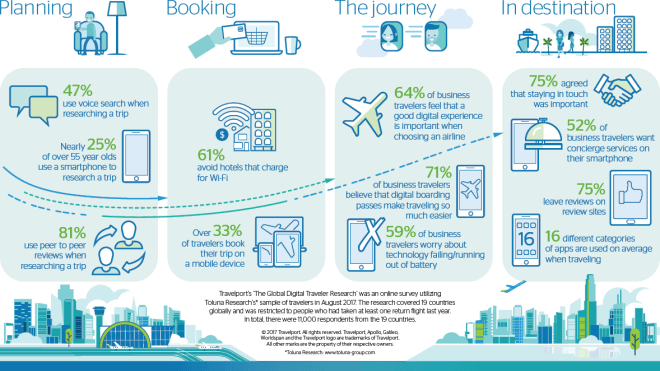 Key Findings of the Global Digital Traveler Research – Infographic by Travelport
Taking a closer look, we were particularly impressed with the following results:
– 60% said they would be lost without their smartphone, but 43% would switch off all devices (so, at least 3% is already lost and where are the moderates here?)
– 68% of Indonesian travelers book their trip on a mobile device (jeez, really?)
– 63% of senior travelers (those over 55) "know exactly what they want" when researching a trip (the wisdom of age… yeah sure, but how sad is that?)
Anyway, the report also includes a list of the most digitally-dependent countries and the top ten are not exactly the ones you would expect. In fact, the ranking looks like this: 1) India, 2) China, 3) Indonesia, 4) Brazil, 5) Saudi Arabia, 6) Mexico, 7) South Africa, 8) United Arab Emirates, 9) Colombia, 10) Italy.
To find out more, download Travelport's Global Digital Traveler Research.