Walden Pond: Warmer Waters and Loads of Mocha Syrup
The pond turned into a latrine is the perfect metaphor for today's mass tourism. Thoreau's Walden Pond, which is only half an hour's drive from Boston, MA, is invaded every year by half a million "incontinent tourists", more than double those visiting Guyana or Bermuda… and apparently, things get really wild…
More than half of the summer phosphorus budget of Walden Pond may now be attributable to urine released by swimmers, while a footpath to Thoreau's cabin caused large amounts of soil to wash into the lake.
Despite all this, the site has a high rating on Google Maps and, judging by the reviews, the real issues are elsewhere. According to most visitors, Walden Pond Reservation remains "a true transcendental experience" and "a must visit if you are an American Literature fan", but there are no showers, parking sucks, the staff is unfriendly, and well "ice mocha has way too much mocha syrup".
Not exactly what Thoreau had in mind when he wrote "Walden" in 1854…
Virtual Weekend Escapes: Across the Brooklyn Bridge
American filmmaker Bill Morrison, known for the award-winning Dawson City: Frozen Time, is a keen visual archaeologist and time traveler. In this 2005 short film commissioned by the Museum of Modern Art in New York, he manages to unearth a "rarefied view" on the Brooklyn Bridge we can no longer experience.
[…] The unique central perspective lends itself to abstraction and time travel: the journey from one side of the East River to the other becoming a unit of both time and space, increasingly compressible and distributable.
The obsessive repetition in split screen view of the trolley trip from Manhattan to Brooklyn combined with T. Reynolds' original score creates a hypnotic effect which is likely to stay in our minds. Thanks to Aeon for letting us spot this gem.
Enjoy Camping and RVing Throughout the United States
More than 40 million people go camping in the United States each year, making it one of the most popular outdoor activities alongside running, fishing, biking, and hiking. RVing, in particular, is on the rise since the financial crisis in 2009.
Equipped with all the comforts of a tiny home on wheels, recreational vehicles (RVs) allow you to move freely in the vast American landscape and embrace life on the road, even just for a vacation. Ok, cool, but how to choose where to stop?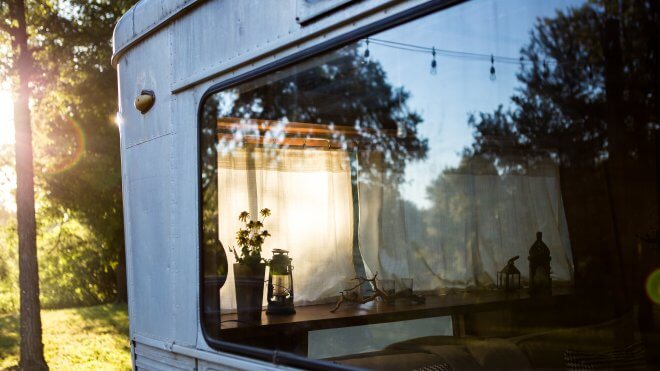 Camping and RVing in the Vast American Landscape – Photo Courtesy: Lawton Cook @ Unsplash
You can use RoverPass to easily find and reserve an RV site anywhere in the US. With over 20,000 campgrounds and RV parks listed, the Austin-based company makes the whole planning less painful leaving you plenty of time to fully enjoy your RV journey. Campers and RV owners may also like these other resources: RVshare, RVillage, RV Park Reviews, Workamper News, and RV University.