Walden Pond: Warmer Waters and Loads of Mocha Syrup
The pond turned into a latrine is the perfect metaphor for today's mass tourism. Thoreau's Walden Pond, which is only half an hour's drive from Boston, MA, is invaded every year by half a million "incontinent tourists", more than double those visiting Guyana or Bermuda… and apparently, things get really wild…
More than half of the summer phosphorus budget of Walden Pond may now be attributable to urine released by swimmers, while a footpath to Thoreau's cabin caused large amounts of soil to wash into the lake.
Despite all this, the site has a high rating on Google Maps and, judging by the reviews, the real issues are elsewhere. According to most visitors, Walden Pond Reservation remains "a true transcendental experience" and "a must visit if you are an American Literature fan", but there are no showers, parking sucks, the staff is unfriendly, and well "ice mocha has way too much mocha syrup".
Not exactly what Thoreau had in mind when he wrote "Walden" in 1854…
Flâneur: The Art of Wandering the Streets of Paris
Urban wandering can become a selfish art form or a secret vice? Absolutely yes, according to Federico Castigliano who in his inspiring book "Flâneur: The Art of Wandering the Streets of Paris" offers an idealized, romantic, and sensual vision of the "City of Lights". Paris, a city to read and walk without haste, becomes "the realm of the possible" for those who are truly consumed by wanderlust.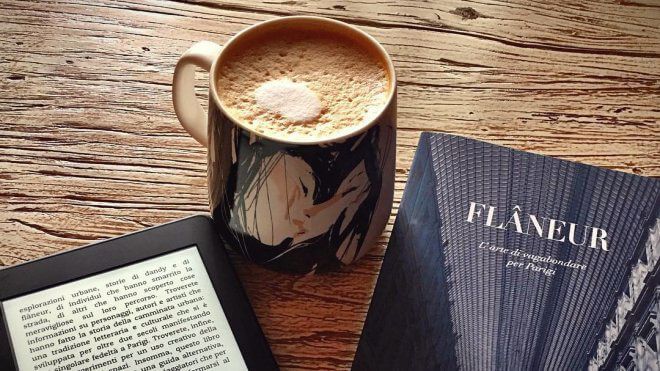 Flâneur: The Art of Wandering the Streets of Paris – Photo Courtesy: Federico Castigliano
The Italian author, now settled in Beijing, identifies himself as a classic literary figure and may seem snobbish at times, but after all, he's one of us, equally lost and on the run. Just see how he describes the ordinary travel experience:
Waking up early and braving the taxi or train ride to the airport weighed down with luggage; crossing the boutique-filled concourses, negotiating the security controls, checking in and proving my identity. And then, after hours of flying, arriving at an airport in another city, Beijing for example, only to find the same shops, the same soft drinks, and perfumes and then repeating the same actions in reverse to pick up my luggage and finally achieve my freedom once more… And if in Paris I was looking for Beijing, in Beijing I will end up looking for Paris, longing for a crusty baguette, a painting by Courbet, an Italian shirt.
The book is worth reading and includes an extensive bibliography that spans from Aldeguier and Balzac to Breton and Perec. More than wandering, it invites us to reflect on ourselves and on the path we want to follow in life. Don't expect a happy ending or a linear storytelling without contradictions. How could it be?
How Much Nature Do We Need During Winter?
This is dedicated to all those who don't like being stuck at home all day, even in winter. (Excerpt from The Journal of Henry David Thoreau; via Brain Pickings)
12/29/56, Journal, IX 200. We must go out and re-ally ourselves to Nature every day. We must make root, send out some little fibre at least, even every winter day. I am sensible that I am imbibing health when I open my mouth to the wind. Staying in the house breeds a sort of insanity always. Every house is in this sense a hospital.
Bonus: Thoreau's "Excursions" is available for free on Project Gutenberg.