Banksy's Hotel Invites You to Enjoy Activist Tourism
And who knew that street artist Banksy opened a temporary hotel in Bethlehem? Same as any fashion designer does, uh? No. The Walled Off Hotel is located just feet from the barrier that separates the West Bank from Israel and does not aim to generate money but to raise awareness of the situation in that area.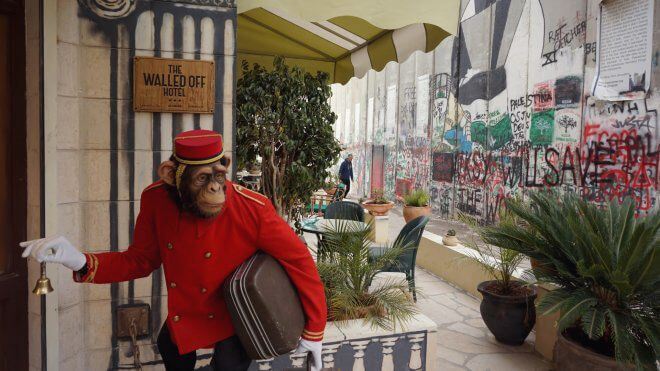 Entrance to the Walled Off Hotel by Banksy in Bethlehem – Photo Courtesy: Addy Cameron-Huff @ Flickr
Prices range from $60 to $965 per night and bookings can only be made until February 1, 2018, but the museum and art gallery are also open to non-residents looking for selfies. From active to "activist tourism" then, just when Palestine is the world's fastest-growing tourist destination, according to the UNWTO.
Update: bookings at the Walled Off Hotel have been extended to November 30, 2018.
Discovery TRVLR: Travel the World from Your Seat
Want to travel the world without leaving home? Here's your chance (kinda). Google has partnered with Discovery VR to launch Discovery TRVLR, a 38-episode immersive series which promises to take you "in every corner of the globe across all seven continents", starting from Auckland, New Zealand.
How can you go wrong here, at least as a tourist? There's no doubt you'll save precious time and money compared to a real life, pre-packaged tour.
Find all episodes of Discovery TRVLR on YouTube or the Discovery VR app. They can be comfortably experienced in VR with the new Google Daydream View headset as well as with Cardboard, Samsung Gear VR, and Oculus Rift.
Iceland Named Fastest Growing Nation Brand of 2017
Thanks to the popular TV show Game of Thrones, whose winter scenes mostly take place in Iceland, the country has welcomed 1.8 M foreign visitors in 2016, up 40% from 2015, and is expected to reach 2.4 M by the end of this year.
Brand Finance, that annually reveals the world's most valuable nation brands, considers Iceland the best performer in 2017 and sums it up with an auspicious "money is coming". There can't be over tourism with all that space, eh? Hmm…
In case you are wondering, in the ranking, led by the US and closed by Cyprus, the worst performing nation brand is Uzbekistan. Now you decide where to go for the next holidays… The full report "Nation Brands 2017" is available here.