Summertime with its sun, joy & inspiration gets us in touch with nature which is a form of art in itself. Luckily there is a whole slew of events in New York City held in plain air that are blending music, ballet, art, and theater. If you plan to be in NYC this summer, here is a selection for you.
Hudson Valley Shakespeare Festival at Boscobel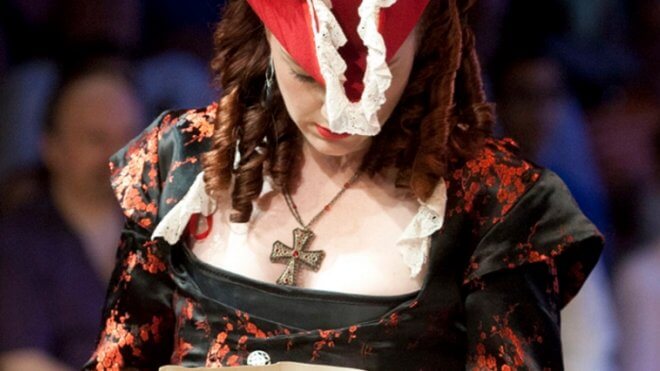 Hudson Valley Shakespeare Festival at Boscobel in Garrison, NY – Photo Courtesy: HVSF Blog
This year summer season at Boscobel brings in another round of the Hudson Valley Shakespeare Festival. The performances will be held at Boscobel mansion in Garrison, NY. Located 60 miles north from New York City, the mansion is a historical landmark restored from the Federal-era house and the Beaux-Arts gardens. The majestic surroundings provide a unique backdrop for any play.
This season lineup includes Twelfth Night and Love's Labor's Lost by William Shakespeare, Pride and Prejudice adapted from Jane Austen, The Book of Will by Lauren Gunderson and The General from America by Richard Nelson.
There is probably no reason to explain the fable behind W. Shakespeare's plays and an adaptation from Jane Austin. The Book of Will was written by Laurie Gunderson who was named "the second most produced living playwright of 2016-2017 season" by the American Theater Magazine. The story is a historical drama set in Elizabethan London. It's full of people, noises, and colors of that time. The Globe theater is the setting for some of the scenes. In the interview published on the HVSF blog Gunderson shares her ideas about storytelling and on bringing women into play, something that wasn't a customary thing at the time. This year performance of The Book will be its HVSF premiere.
The General from America by Richard Nelson is a return to HVSF scene. The first time it was performed here in 1996. Set at a time of the Revolutionary War, it has a lot of stuff going from meetings of congress to protests to the war itself.
Find out more about the venue, dates, and tickets here.
Jazz & CHIHULY at New York Botanical Garden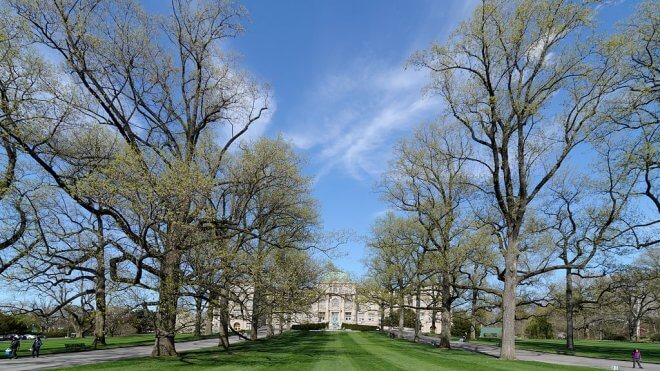 New York Botanical Garden, The Bronx, NYC – Photo Courtesy: King of Hearts @ Wikimedia Commons
The collaboration between New York Botanical Garden and Catskilll Jazz Factory brings Jazz & CHIHULY to the scenic Conservatory lawn of the garden. The first concert scheduled, The French Connection, is a mix of dynamism of American jazz with melodic French chanson and European swing by a superb ensemble of musicians with Alphonso Horne on trumpet and Camille Bertault, vocals.
The French Connection concert will include a range of music spanning over four decades of jazz. The concert is presented by the Catskilll Jazz Factory, an innovative educational and performance art community. The community had celebrated 100 years of jazz history in May with a concert in the picturesque town of Annandale-on-Hudson at the Fisher Center (Bard College).
Find out more about the venue, dates, and tickets here.
Daniil Trifonov, Piano at Caramoor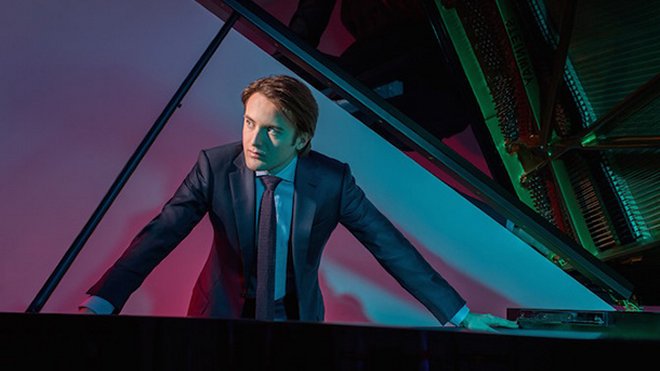 NYC Art and Culture Scene for Summer 2017: Daniil Trifonov – Photo Courtesy: Caramoor
Still very young, Daniil Trifonov is what the Washington Post music critic calls an "it" pianist of our time. Trifonov is well-known to the audiences around the world for his tone, technique and poetic sensitivity. He is not afraid of selecting some of the most challenging composers to perform, and the program for this year summer concert at Caramoor is exactly in that category.
Trifonov started his piano studies at the renown Gnessin School of Music in Moscow, Russia and continued his studies at the Cleveland Institute of Music. After winning the first prize in the Tchaikovsky competition he became a true international sensation in 2011. From that time on he is a regular at all the major concert halls around the world with dedicated fans eagerly anticipating his every performance. And he never disappoints. The New Yorker magazine in its review of this year performance at Carnegie Hall notes that Trifonov "creates furor".
The combination of top quality music performance and spectacular Caramoor gardens and grounds makes it an ideal place for summer night out. At Caramoor the visitors can enjoy architecture, history, art, horticulture, and music all in one place. Arrive early in the afternoon to have a chance to explore them all.
Find out more about the venue, dates, and tickets here.
Taming of the Shrew by Bolshoi Ballet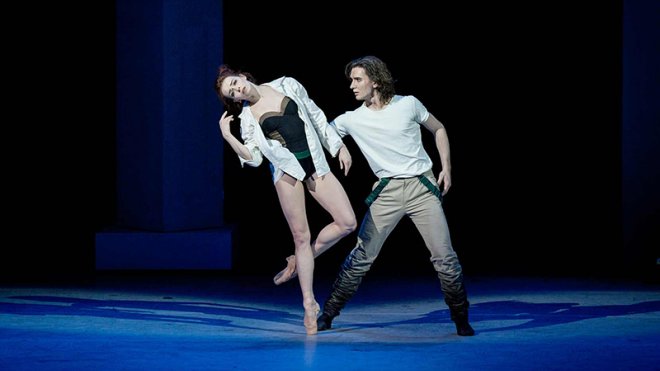 2017 Lincoln Center Festival: Taming of the Shrew by Bolshoi Ballet – Photo Courtesy: Lincoln Center
Every year Lincoln Center Festival manages to put together an exciting program discovering amazing performers in theater, music, dance, and ballet. This year is no exception, with a July lineup that includes Bolshoi's Taming of the Shrew.
It offers elegant and witty choreography, superb technique and a swirl of energy. This masterly ballet production of William Shakespeare play for the Bolshoi is choreographed by the Ballet de Monte-Carlo director and choreographer Jean-Christophe Maillot. The ballet is set to carefully selected music by Shostakovich.
Originally produced in 2014, the ballet had already traveled to London, UK to a high acclaim from the audience there. Given a close attention London pays to every staging of Shakespeare material, the welcome by British public and the media is a telling matter. Both The Telegraph and The Guardian reviews had only positive comments.
Bolshoi Ballet dancers bring their mastery to the high-speed love story. That high-pace of the story was the only concern for critics. The rest is sheer joy!
Find out more about the venue, dates and tickets here.
Cyrille Aimee at (Le) Poisson Rouge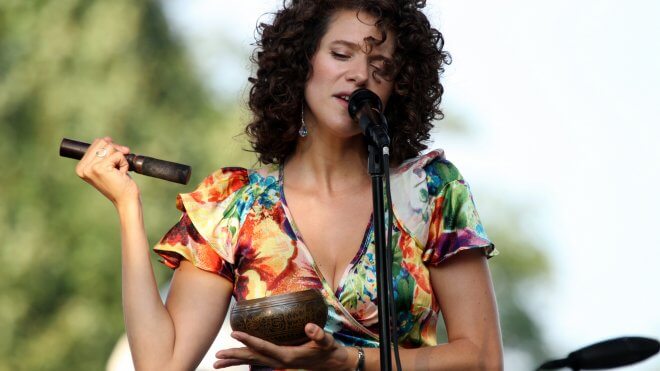 NYC Art and Culture Scene for Summer 2017: Cyrille Aimee in Concert – Photo Courtesy: Jeff Dunn @ Flickr
(Le) Poisson Rouge club will be hosting a concert by jazz and cabaret singer Cyrille Aimee on August 16. The artist's playful style in delivering a mix of jazz, soul, and ethnic music from France to Brazil is a delight for every music lover.
Aimee was born in Fontainebleau, France and raised in the village of Samois-sur-Seine. The village is famous in the world of jazz because French gypsy guitar jazz legend Django Reinhardt lived there. It's also a place for an annual festival which brings together jazz-manouche musicians from all over the world.
Aimee started her music education in France and continued at SUNY Purchase college where she caught attention of the musical circles in NYC which is just thirty-minute train ride from school. A proximity to NYC allowed Aimee to connect with a diverse musical community there and start her Surreal Band.
In 2012 Aimee had won the Sarah Vaughan Jazz Vocal Competition which invigorated her international career. That same year she and her band were invited to perform at the Birdland Jazz Club for the 1st time. The engagement continued with the most recent performance taken place in the fall of 2016.
"She is a one-woman rhythm machine" in the words of music critic S. Holden. In another review by AllAboutJazz, she is called "the face of post-modernity".
Find out more about the venue, dates, and tickets here.
Florine Stettheimer at Jewish Museum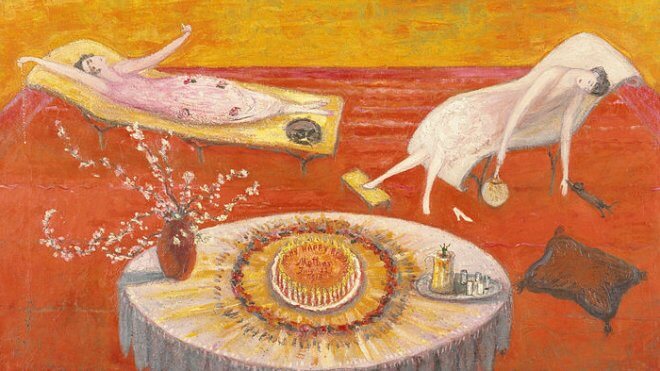 Painting Poetry: Heat by Florine Stettheimer – Photo Courtesy: Google Arts & Culture
If you are up for the surprise and novelty then take a note of the Jewish Museum retrospective of the work by New York artist Florine Stettheimer (1871–1944).
The exhibition is on view until September 24 and includes paintings, theatrical costumes, stage designs, poems, and personal ephemera. Stettheimer painted the 1920s world of Jazz Age New York as experienced by high society of that time with witty satire, allegories, and warm touch.
There's a profusion of playful scenes, party spirit, and faux-naiveté everywhere. Pay attention to the "Cathedrals" series showing 4 Manhattan sites emblematic for their relation to high society then and now. That's why Stettheimer's art is so potent today, making her deserve a top spot among American modernist artists.
Symbolist artists of the time as well as the Ballets Russes were among the strong influences on her. Upon her return to America before World War I, she adapted the Symbolists' ideas for the depiction of the world she was intimately familiar with making it the subject and the ultimate consumer of her work.
Continuing her connection to the world of ballet, Florine Stettheimer also worked on costume and stage design incorporating new materials in her work. Her successful theatrical undertaking was 1934 staging of the "Four Saints in Three Acts" written by Gertrude Stein with the music by Virgil Thompson.
The New Yorker review of the current retrospective calls Stettheimer "a major theatre designer" with creative use of cellophane, feathers, and sequins in her sets and costumes. Jewish Museum exhibit lets us discover this sensible artist.
Find out more about the venue, dates, and tickets here.
CHIHULY Glass Sculptures at New York Botanical Garden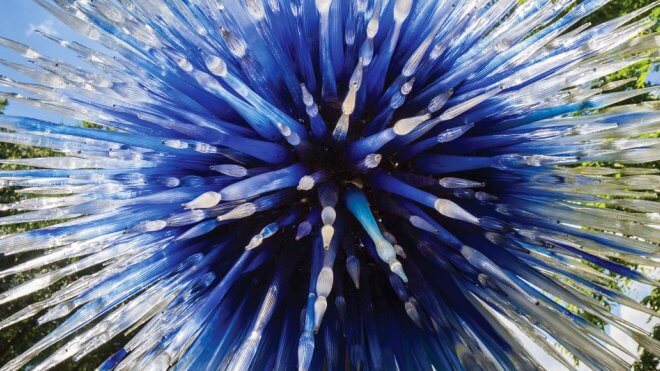 NYC Art and Culture Scene for Summer 2017: Blue Moon by Dale Chihuly – Photo Courtesy: NYBG
20 works by world-renowned glass sculpture artist Dale Chihuly is on view till October 29 at New York Botanical Garden. The installation CHIHULY, spread-out on over 250 acres grounds, includes the artist's early drawings and his more recent creations. This is the second collaboration between Chihuly and NYBG as his art easily blends in with nature and seems to be destined to be exhibited at NYBG. The first exhibition was held in 2006 attracting some 350,000 visitors.
Chihuly came a long way in reaching the level of expression he is presenting to the public today. Raised in Tacoma, WA, it took him years of studies at the top Art and Design schools and intensive work with Italian, German and Eastern European glass blowing masters to start making his innovative designs.
He graduated from the famous Rhode Island School of Design (RISD) in 1968 with MFA, and travelled as a Fulbright fellow to Europe immersing himself in the fascinating world of colors, patterns, and forms made from glass. It is only natural that his interest in glass had brought him to Venini factory on the island of Murano off Venice, Italy. Murano was a well-known glass blowing center from 1291 when the Venetian Republic ordered its glass blowers to move off the cost.
Chihuly stresses the uniqueness of glass as the only material that lets the light through and he fully capitalizes on this characteristic. With that in mind, garden environment is an ideal ground to seeing Chihuly's works as it gives the viewers a chance to see the changes in light and its reflection in the ponds depending on daytime. Playing on this notion, the nighttime illumination adds some magic to the works. The garden will be open late for the visitors to experience it.
Find out more about the venue, dates, and tickets here.
For more recommendations on the cultural events in NYC visit arts-NY as events are added to the site daily. Enjoy your visit and drop me a note at contact@arts-ny.com!