Hiking in late fall and winter is quite an exciting and varied experience, offering many alternatives: from snowshoeing and cross-country skiing to bushwalking. If you have a strong sense of independence and freedom, this is probably the best time of the year to hit the trail and take an epic hike.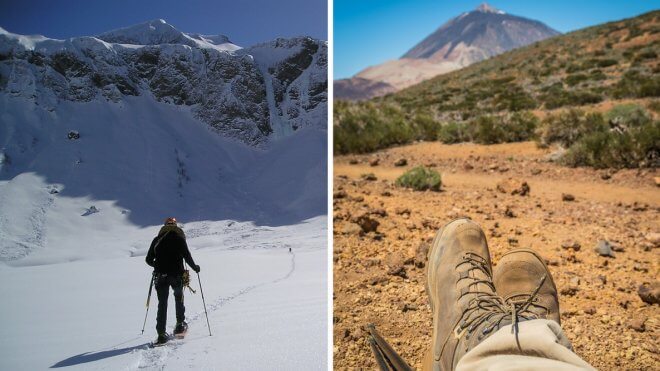 Hiking in Late Fall & Winter – Photo Courtesy: Simon Steinberger and Connie Frank @ Pixabay
While the routes at the Canaries and in Oceania should ensure excellent climatic conditions, typical of springtime, let's not forget that in Japan and in the rest of Europe late fall and winter are associated with significantly lower temperatures, erratic weather, and in some cases heavy snowfalls.
An adequate preparation and the right clothing and gear are thus essential, as well as the strict observance of safety rules & regulations. For shorter and more comfortable options, take a look at the 50 day hikes at the bottom of this page.
Te Araroa Trail is New Zealand's long distance tramping route, stretching the length of the country from Cape Reinga to Bluff. The trail has approximately 300 sections and crosses all the most spectacular New Zealand landscapes.
The Douro Valley (Portugal) is at its best during the fall season, when nature shines in green, yellow, copper, and brown shades. This beautiful region has 12 main footpaths which perfectly combine its natural & archaeological heritage.
The Canaries (Spain) boast an incredible variety of habitats and a permanent spring weather, which makes hiking in close contact with nature a real pleasure all year round. The archipelago has many fine trails to explore on its 7 islands.
The GR 20 is a long distance trail that crosses the Mediterranean island of Corsica (France) from north to south. Described by outdoor writer P. Dillon as "one of the world's top trails", it is 180 km long, and can be walked in 15 days.
The Goldsteig Trail is the longest and most diverse hiking path in Germany. It runs along the Upper Palatinate and Bavarian Forest and offers 660 km of hiking terrain with great sceneries (also in winter) and cultural sightseeing.
Via Francigena (Italy) is an ancient, enchanting route that in medieval times connected Canterbury to Rome. Nowadays you can gently walk through it as a pilgrim or a hiker in several stages enjoying the typical Italian atmosphere.
The Six Foot Track is a challenging 44 km walking trail that winds through the Blue Mountains National Park in Australia, passing by forests, waterfalls, rivers, and historical sites of rare beauty. The hike can be done in 3 days.
The GR 16 Sentier de la Semois stretches along the most beautiful wild river of Belgium. Hiking in the Ardennes during fall, through a colorful countryside, enchanting forests, and strange rock formations, is a rewarding experience.
The Shinetsu Trail climbs over the Sekita mountain range, between Nagano and Niigata Prefectures (Japan), connecting various traditional villages along the way. Covered by snow in winter, the trail offers great mountain and ocean views.
The Sub-Alpine Trail crosses Slovenia from west to east, letting you explore some of its stunning but relatively unknown hilly and woodland regions. The entire route is 470 km long and can be "easily" covered in about one month.
Discover our 50 selected Day Hikes for the Late Fall/Winter Season: Australia, Belgium, France, Germany, Italy, Japan, New Zealand, Portugal, Slovenia, Spain.
Editor's Note: This post was originally published in October, 2016, and has been updated to revise the list of trails, include additional items, and keep it fresh and accurate.