In many ways, a festival is just like a full-blown holiday trip all rolled into one. Quite often it's a life-affirming experience, cramming in all sorts of random fun and misbehavior, art, music, performance, and, of course, socializing into a few short, sleepless days.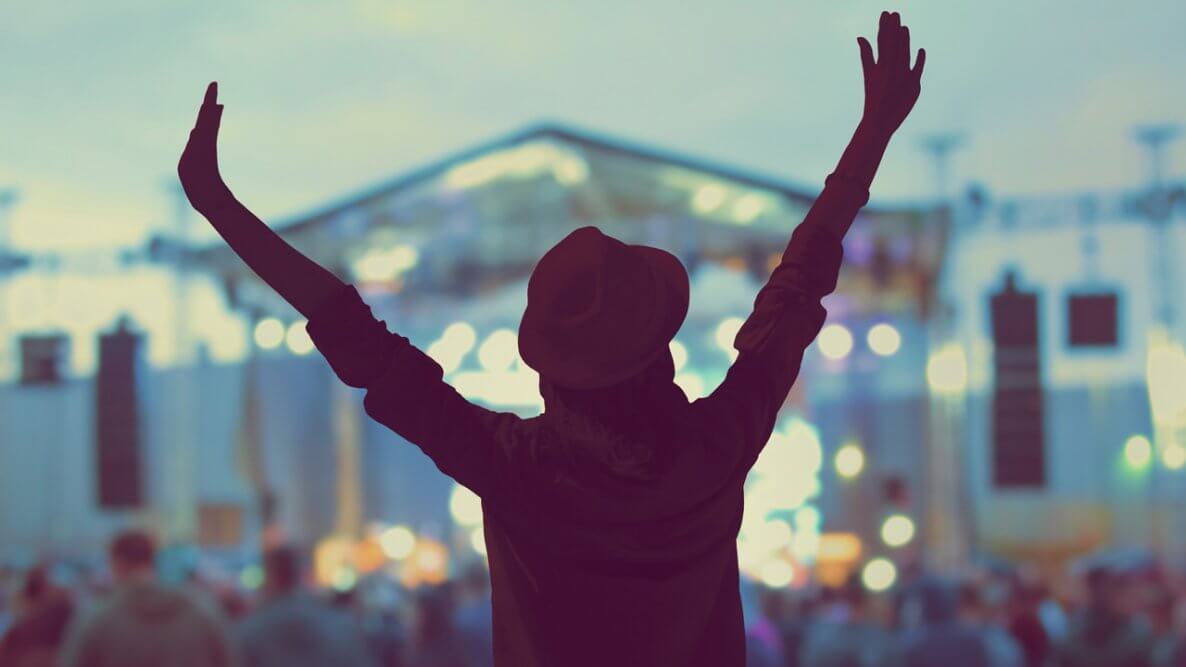 7 Festivals Travelers Will Love & Remember – Copyright: Getty Images / iStockphoto
It's not only a brief escape from a dreary 9-5 existence but a real chance to let loose alongside about 50,000 other like-minded dreamers. Find your festive groove with 7 festivals travelers will love and remember – and you will too!
Boryeong Mud Festival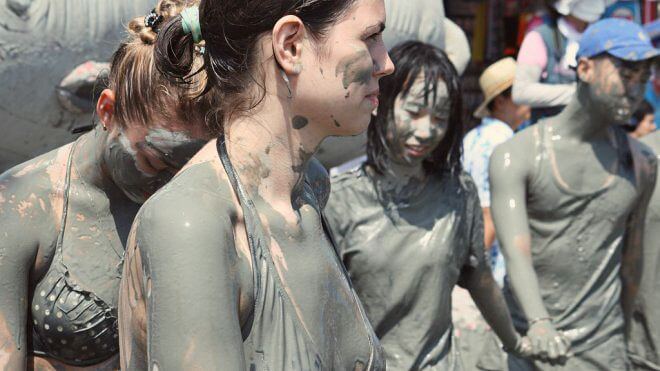 7 Festivals: Mud Fest 2008 – Photo Courtesy: Shawn Perez @ Flickr
Originally established as a humble celebration to promote cosmetics made from nutrient rich Boryeong mud, the "Mudfest" has morphed into one of Asia's most bizarre, booze-fuelled happenings. Lasting 10 days each July for down and dirty mud-splattered debauchery, the festival features all manner of muddy mayhem including mud slides, mud wrestling pits, a "mud prison", huge communal mud baths, mud fountains, and a slimy swimming pool.
It all takes place at Boryeong's quaint Daecheon Beach, with campgrounds and nightly concerts, firework displays and beach raves. This mega festival attracts more than a million people, however, there are always options for cheap last minute hotels in Boryeong and surrounding towns.
Where: Daecheon Beach, Boryeong, South Korea / When: July
For more information, visit boryeongmudfestival.com.
Snowbombing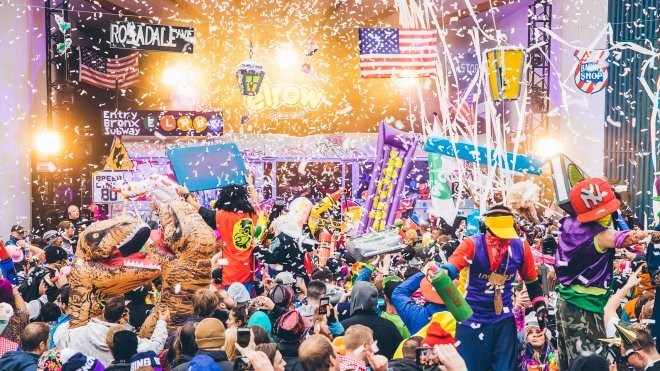 7 Festivals: Snowbombing / Elrow Street Party – Photo Courtesy: Danny North / Snowbombing
Snowbombing is the original and still, the pick of Europe's Alpine EDM focused festivals, set some 8,000 feet above sea level in Mayrhofen. It attracts top-notch snowboarders but the vast majority of the 5,000-plus revellers are here simply for the beer, bands, and DJs. The six-day snowfest is a whirlwind of epic events ranging from chairlift speed dating, Alpine yoga, "cable car-aoke", igloo raves, mega snowball fights, and enchanted forest party nights.
Snowbombing's enduring appeal is in the top-notch line-up of artists – previous headliners have included the Prodigy, Fatboy Slim, and Kasabian, performing in unique snowbound venues scattered throughout the mountains. From black runs to white-hot raves, it's the complete piste to party experience.
Where: Mayrhofen, Austria / When: April
For more information, visit snowbombing.com.
Exit Festival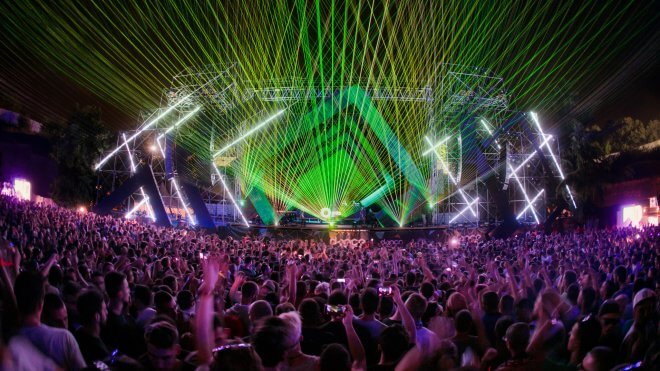 7 Festivals: Exit Festival 2017 – Photo Courtesy: Bojan Hohnjec @ Flickr
The Petrovaradin Fortress in Novi Sad, Serbia is the historic setting for four days of music and mayhem and is now one of Europe's premier summer happenings. Born out of a student-led democracy and freedom movement in 2000, Exit still retains a revolutionary vibe, and the average line-up of artists is among the most eclectic of any festival worldwide. Expect old-time punksters like The Damned rubbing shoulders with Motorhead, Pet Shop Boys, Morrissey, and Kraftwerk. There are more than a dozen niche stages devoted to dance, reggae, hardcore rock, trance, and practically every other obscure strand of music in between.
Non-musical stuff includes a zip line, skating park, and planetarium, as well as chill-out zones to heal a hangover swinging in a hammock. Soak up all the love, peace, and freedom of expression with a heavy dose of Balkan hedonism.
Where: Novi Sad, Serbia / When: July
For more information, visit exitfest.org.
Burning Man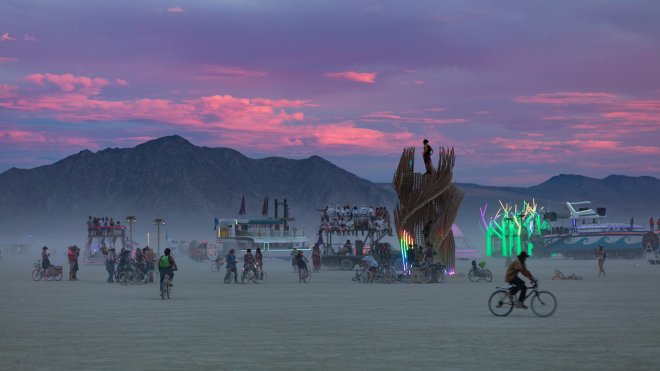 7 Festivals: Burning Man 2016 – Photo Courtesy: Duncan Rawlinson
Burning Man turns the mainstream festival concept completely on its head. It is hosted in a Nevada desert "town" that doesn't actually exist, there are no invited musicians, yet there is impromptu music galore, and the usual festival business model – that is to make as much money as possible – is nowhere in sight. That means planning ahead by gifting stuff or a service purely for the good karma.
Burning Man is all about the crazy art installations and even freakier characters that show up in their thousands. Expect aging hippies, modern day mystics, new age gurus, social butterflies, and burned-out techies dressed in bizarre attire or nothing at all. It is in the middle of the scorching desert after all.
The theme camps & villages are the core of Burning Man, serving as mini tribal communities for every obscure interest out there, from spiritualism to S&M.
Where: Black Rock Desert, Nevada, USA / When: Late Aug – Early Sep
For more information, visit burningman.org.
Up Helly Aa Fire Festival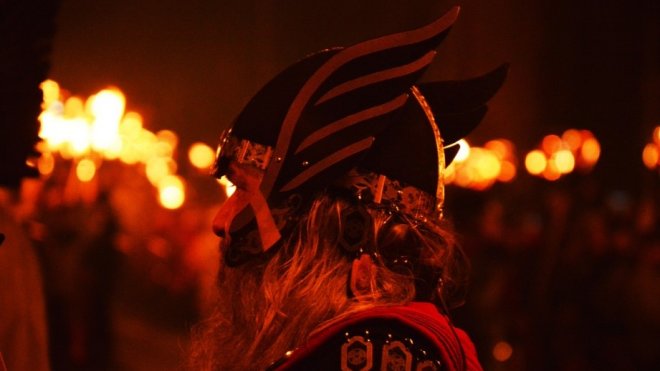 7 Festivals: Up Helly Aa Fire Festival – Copyright: Getty Images / iStockphoto
Rape, pillage, and lots of fire characterize the oddly named Up Helly Aa Fire Festival, held in the chilly Shetland Islands of Scotland. This celebrated annual Viking fire festival has been described as a cross between Game of Thrones and Burning Man with beards. It is, in fact, the largest fire festival in Europe and traces its Norse roots back more than 1,000 years.
Up to 1,000 burly local men dressed as Viking warriors (plus few more wearing bizarre drag attire) march through the streets of Lerwick pulling a giant Viking galleon which is then ceremonially set alight as a spectacular finale. But it does not end there. That signals the start of an all-night booze-fest complete with weirdly hypnotic traditional music and bizarre folk dancing.
Where: Lerwick, Shetland Islands / When: January
For more information, visit uphellyaa.org.
Fuji Rock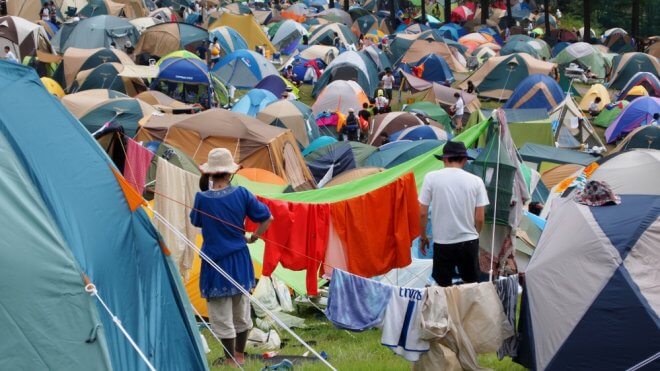 7 Festivals: Fuji Rock Festival 2010 – Photo Courtesy: Kentaro Ohno @ Flickr
The setting for Japan's top musical happening is stunning. It is no longer held in the shadow of Mount Fuji but its current home of Naeba Ski Resort has equally captivating mountain scenery. You get 3 full days of quality music from indie rock gods and up and coming guitar bands across 10 stages dotted around the forests and mountain slopes. The Cure, Red Hot Chili Peppers, Radiohead, Coldplay, Massive Attack, Sigur Ros, and Oasis have all played sets here.
It's a huge event attracting up to 200 artists and more than 100,000 revellers, and despite its size has a very relaxed vibe. There are lots of new age sideshows, drumming workshops, an open mic stage, open-air cinema, and chill-out zones.
There's a quintessential Japanese weirdness to it all with glammed-up cosplayers and bizarre art installations, but it is also surprisingly family-friendly. Under-12s get free admission. Even the public toilets are spotless!
Where: Naeba Ski Resort, Niigata, Japan / When: Late July
For more information, visit fujirock-eng.com.
Oktoberfest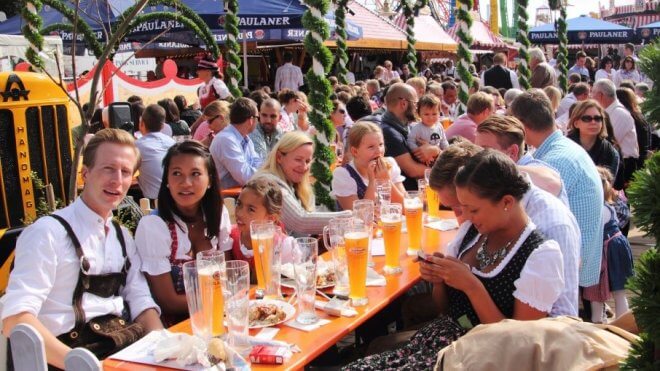 7 Festivals: Oktoberfest – People Sitting in the Beer Garden – Copyright: Getty Images / iStockphoto
If beer is your thing, then raise a stein to Munich's Oktoberfest, the legendary two week long celebration of lager and lederhosen. The sheer numbers involved should be enough to give you a hangover: it attracts a mind-boggling six million visitors who swig more than seven million lts of beer and munch on mountains of bratwurst and pretzels. There are dozens of beer tents each rocking their own atmosphere. While all serve tons of beer, some are favorites with families, with serious beer lovers, oompah music lovers, or rowdy party animals.
Beer aside, there are more than a hundred fairground rides and sideshows so there are plentiful non-drinking options when "nursing a hangover". It's great fun with a unique kitschy quality; the seething tents, filled with thousands of inebriated drinkers, seemingly teetering on the edge of chaos but it is all handled with typical German efficiency.
Where: Munich, Germany / When: Mid Sep – Early Oct
For more information, visit oktoberfest.de.
At any major festival, you will be living, eating, dancing, and quite possibly getting high cheek by jowl with thousands of other festival kids. Festivals foster togetherness and community like no other social occasion – you will strike up conversations in an instant and who knows, you may even come across your next BFF. Extreme weather and rancid living conditions aside, you will get a constant buzz and priceless moments you will remember forever.