Short and fragile, spring can reserve some surprises from a climatic point of view, but how to resist the call of nature that from March through May is coming back to life again and seems ready to welcome us with open arms?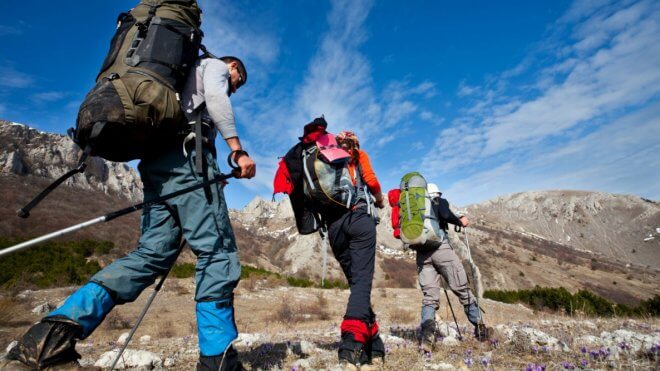 Spring Hiking Trails: Group of Mountaineers Walking – Copyright: Kamchatka
While in the Southern Hemisphere the leaves begin to fall from the trees, in the Northern, the snow is melting below 1,500 meters of altitude and fields of flowers are coloring the landscape everywhere. Thus, if the cool breezes and warm sunshine have already awakened your hiking spirit, here you will find ten long distance trails and fifty shorter day hikes just waiting to be walked on.
A historical route since the 14th century, el Camí de Cavalls (the Horses' Trail) encircles the island of Minorca (Spain). The 186 km path has 20 different stages averaging 10 km each and gives access to some of the most remote beaches.
Inspired by a classic of outdoor literature, the Stevenson Trail is a Grande Randonnée (GR 70) that runs for 274 km through the French departments of Haute-Loire, Lozère, and Gard with a maximum elevation of nearly 1,700 m.
The Bohemian Paradise Gold Trail is a 98 km route that connects the most important spots of this protected landscape area located in North Bohemia. The Czech region provides many options for hiking and biking, as well as excursions for travelers who wish to enjoy the pleasures of ecotourism. More info here.
Considered to be one of the oldest long distance paths in Europe, Hungary's National Blue Trail is divided into 27 sections for a total of 1,128 km. Starting atop the Irottkő Mountain, the trail reaches Budapest half way on its route.
Located in a national park, Kamikōchi is the gateway to the Japanese Alps (Hida Mountains) and from mid-April, when the Kama Tunnel opens to public transport, it becomes a perfect setting for hiking expeditions of varying length.
La Via dei Monti Lariani is a wonderful hiking trail which runs through a mixture of forest and pasture land on the western shore of Lake Como (Italy), reaching the village of Sorico after a journey of 125 km and 6 days of walking.
The Sultan's Trail is a scenic and historic hiking route from Vienna to Istanbul that crosses ten countries. In Austria, the trail starts at St. Stephen's Cathedral, in the centre of the capital, and leads to the Slovakian border.
The Abel Tasman Coast Track extends for 60 km at the very top of the South Island winding through golden beaches, impressive rock formations, and lush native bush and wildlife. It is classified as one of New Zealand's Great Walks.
The Heidschnuckenweg is a 223 km long certified quality hiking trail which leads in a north-south direction through the beautiful countryside of Lüneburg Heath from Hamburg to Celle in Northern Germany. It consists of 13 stages.
The Eastern and lower Western Rhodope Mountains in Bulgaria feature a large network of relatively easy mountain trails and a mild climate which make them ideal for short spring walks as well as multi-day hikes. More info here.
Discover our 50 selected Day Hikes for the Spring Season: Austria, Bulgaria, Hungary, Czech Republic, France, Germany, Italy, Japan, New Zealand, Spain.
Editor's Note: This post was originally published in March, 2017, and has been updated to revise the list of trails, include additional items, and keep it fresh and accurate.