In the second part of Rochelle's Caribbean Hiking Guide, we are going to discover the hiking opportunities offered by Cuba, the largest island in the area, and Guyana, an unspoiled ecotourism haven. Please find Part 1 here.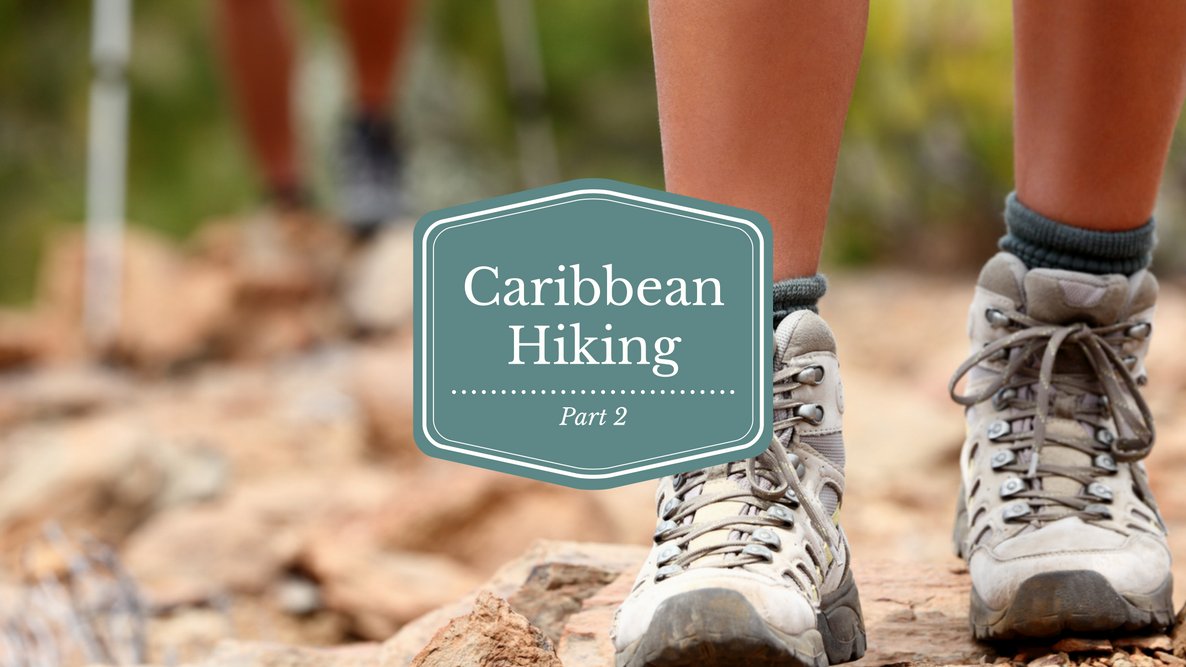 Hiking in Cuba
This Spanish-speaking island is by far the Caribbean's largest. Cuba features historic cities, wonderful beaches, a vibrant culture, delicious food and warm, welcoming people. However, the most intimate way to explore the "Pearl of the Antilles" is through its stunning countryside and mountainous interiors. Much like Jamaica, Cuba is crossed by many rugged cordilleras (mountain ranges), a number of which make up the island's 16 national parks and nature reserves.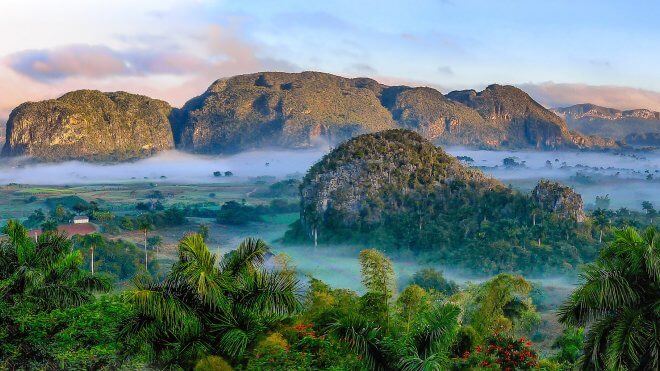 Caribbean Hiking / Hiking in Cuba – Viñales Valley – Photo Courtesy: Simon Matzinger @ Flickr
Viñales Valley, Pinar del Río · View on Map
Bordered by mountains and dramatic limestone outcrops, the Viñales Valley allows you to get in touch with nature while observing traditional methods of agriculture. Mechanical methods of cultivation and harvest lower the quality of Cuban tobacco. Thus, time-honoured methods are still used and can be admired en route through this scenic national park that also gained heritage recognition.
El Nicho, Cienfuegos · View on Map
Finding El Nicho involves hiking through the Escambray Mountains and deep into humid rainforest. Your hike will be rewarded with breathtaking views of a crystal clear waterfall cascading into natural pools. Before leaving, rejuvenate yourself in the Poceta de Cristal, a tiny lagoon with translucent emerald water.
Pico Turquino, Santiago de Cuba · View on Map
If you are keen on boasting that you have conquered the highest point in every country you visit, this is it: Cuba's highest peak at 1,974 m above sea level. There are two main routes for this summit hike, one beginning at Alto del Naranjo in the Granma province; the other beginning at Las Cuevas on the southern coast of Santiago de Cuba province. Pico Turquino lies in the Sierra Maestra National Park and involves hiking through pine forests and on winding lush green trails. This national park is the former stronghold of Fidel Castro and Che Guevara's rebel army that successfully ousted dictator Fulgencio Batista in Jan. 1959. Due to this military significance, hikes through the Sierra Maestra are accompanied by an official guide. Welcoming you at the peak is a bust of José Martí, a true pioneer in Latin American literature and late Cuban independence hero.
El Yunque, Guantánamo · View on Map
El Yunque is an idyllic favorite of tourists and residents alike in the Guantánamo province. The thick tropical vegetation and occasional sunning snake are reason enough that guides are usually compulsory in this natural reserve. Soaring trees and an abundant network of rivers offer relief from the heat and humidity.
Hiking in Guyana
Guyana is a largely unrecognized ecotourism haven in Southern America. It comprises one of the few Caribbean's mainland territories. Despite not being island nations, they proudly boast their Caribbean label from sharing the same colonial history, political ties, geographical location, sea, climate, and culture.
Guyana, the Land of Many Waters, is the only South American nation in which English is the official language. It has one of the largest unspoiled rainforests in South America, some parts of which are almost inaccessible to humans.
The nation records one of the highest levels of biodiversity in the world. Since Guyana does not receive as many tourists as other Caribbean countries (a little over 200,000 in 2015 according to the World Bank), you'll likely be the first of your friends to explore it and have mind-blowing stories to share back home.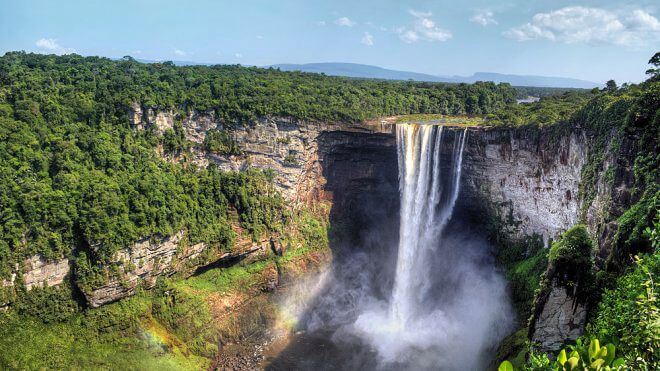 Caribbean Hiking / Hiking in Guyana – Kaieteur Falls – Photo Courtesy: Tim Snell @ Flickr
Kaieteur Falls, Potaro-Siparuni · View on Map
Recognized by many as the world's largest single drop waterfall, the Kaieteur Falls combines an impressive height (226 m), extensive breadth, and a powerful volume of water thundering downhill per second (660 CMS). It is located in the Guyanese portion of the Amazon rainforest. Although frequently admired from above by air, do try hiking to it instead. This makes the beauty of the falls more astounding. The overland expedition when combined with 4WD and walking takes two to three days, starting from the Guyanese capital of Georgetown.
Orinduik Falls, Potaro-Siparuni · View on Map
The Orinduik Falls lies on the Ireng River, a tributary of the Amazon River. It thunders over terraces of red jasper on the border between Guyana and Brazil, forming swimming pools against the backdrop of the Pakaraima Mountains. Consider incorporating this into your hike to the Kaieteur Falls.
Iwokrama Forest, Potaro-Siparuni · View on Map
In this humid million-acre rainforest, retrace the footsteps of the Makushi people while exploring an extensive trail system. The unique combination of flora, fauna, and Amerindian history makes this destination so special. Have a history lesson in the best classroom yet, an authentic retreat to the jungle.
I hope you learnt something new about my region. The vacation possibilities in the Caribbean need not be limited to the beach. Finally, as with all ecotourism spots, take nothing but photographs and leave nothing but footprints. These delicate ecosystems need it to survive and each of us can make a difference!