Paris's reputation as the city of love is unparalleled, but it's also renowned for being home to some of the largest and finest art collections in the world.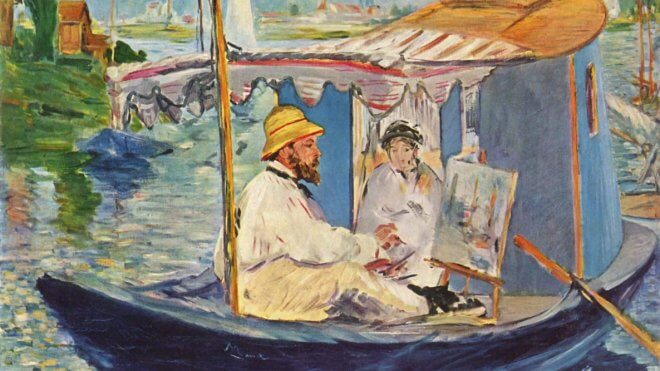 Paris for Art Lovers – Claude Monet in Argenteuil – Edouard Manet (1874)
You must have heard of The Louvre, which houses big hitters such as Mona Lisa, but there are also so many other museums, smaller art galleries, and evocative places in the capital of France which hold formidable reputations and need every art lover's attention. Here's where you should visit to channel your inner artist and look at some amazing inspirational works.
Musée d'Orsay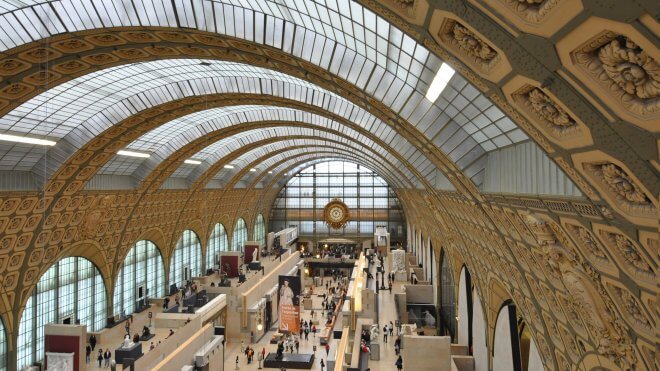 Paris for Art Lovers: Musée d'Orsay – Photo Courtesy: Moonik @ Wikimedia Commons
Located on the left bank of the Seine, the museum is housed in the former Gare d'Orsay, a Beaux Arts railway station, which was built between 1898 and 1900 for the Universal Exhibition of 1900. The Musée d'Orsay mostly exhibits 19th-20th century French art, including paintings, sculptured, furniture, and photography. The specific exhibitions spaces and different facilities are distributed throughout the three levels; the different facilities include the museum restaurant, the Café des Hauteurs, the pavilion among, the bookshop and the auditorium.
Centre Pompidou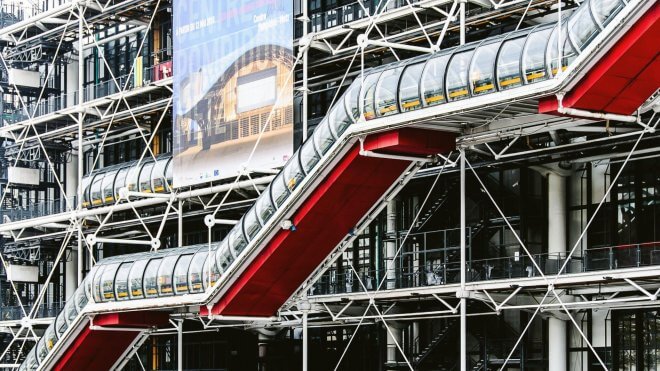 Paris for Art Lovers: Centre Pompidou – Photo Courtesy: Gerhard Bögner @ Pixabay
Centre Pompidou, named after brainchild French President Georges Pompidou, is an iconic landmark in Paris for its controversial high-tech architecture and its world-class collections of modern art. The plumbing, electrics, wires and pipes, air circulation, and even the escalators are on the outside of the building, giving the museum its unique appearance.
It contains over 100,000 works of art, including paintings, sculptures, drawings, and photography. It's also famous for its public library, for it is stocked with almost 500,000 books as well as other media.
Galerie Perrotin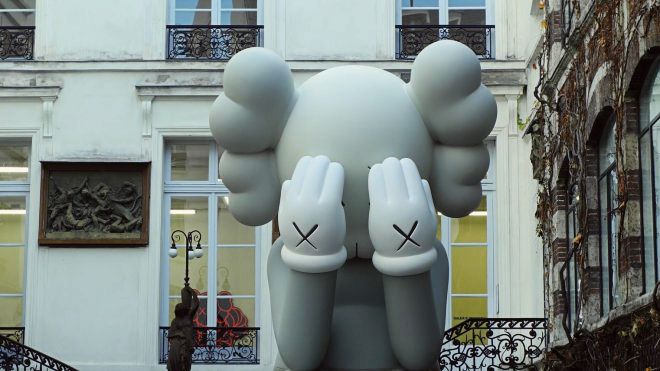 Paris for Art Lovers: Galerie Perrotin – Photo Courtesy: Isabelle Guéguen @ Flickr
A contemporary art gallery founded by Emmanuel Perrotin, Galerie Perrotin occupies 2 floors in the Paris Marais' district, with an adjoining exhibition space across the road. The gallery began representing Maurizio Cattelan and Takashi Murakami early in their careers, but now also represents many young and local artists. At the same time, the gallery collaborates with musicians such as Feist, Massive Attack, Pharrell Williams, and many others, making it worth a visit.
Café La Palette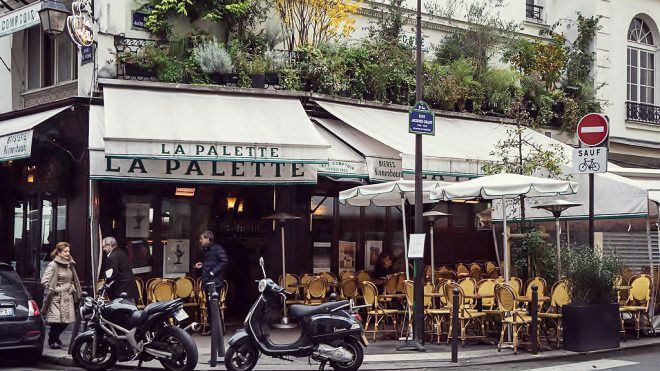 Paris for Art Lovers: Café La Palette – Photo Courtesy: Pedro J Pacheco @ Wikimedia Commons
A café located in the 6th arrondissement of Paris, La Palette was originally a traditional gathering place for students of Fine Arts. It has two rooms, the first one serving as the bar, and the second, larger room in the back is decorated with ceramics and numerous paintings. The Café is most famous for its large terrace, which overlooks Jacques-Callot Street. Recently, La Palette has become a trendy place of the capital, attracting a pretty artsy crowd of customers. Its facade and the interior were also recently listed as a historic monument.
Chartier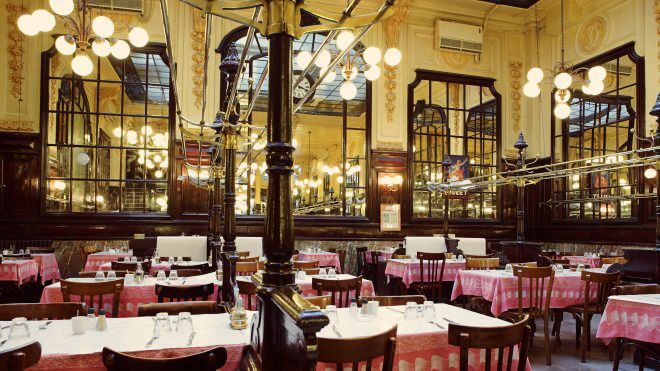 Paris for Art Lovers: Chartier – Photo Courtesy: Bouillon Chartier
Feel like a true Parisian at this stunning ode to the period of artistic development before World War I, tucked down an unassuming alleyway. A Parisian institution providing a unique experience, Chartier offers quality French fare at reasonable prices. The menu hasn't changed since it started with the typical dishes, and the waiters seem as if they just stepped out of a Toulouse-Lautrec painting.
Hotel du Petit Moulin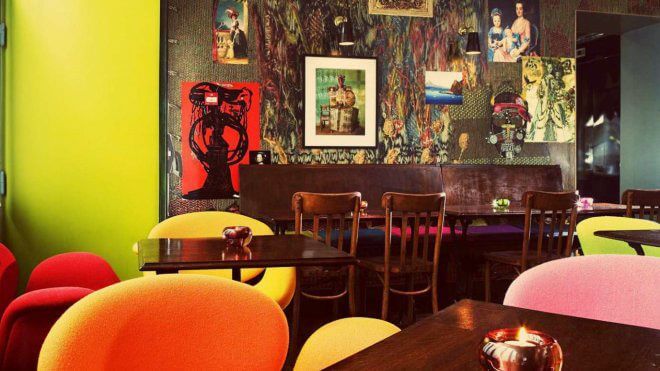 Paris for Art Lovers: Hotel du Petit Moulin – Photo Courtesy: Hotel du Petit Moulin Paris
Fashion icon Christian Lacroix has transformed a 17th century Marais building with a classic boulangerie shop front into a highly original hotel with 17 unique rooms packed with captivating details. The hotel has also joined forces with top cooking school La Cuisine Paris to celebrate the Petit Moulin's culinary history and offer guests the chance to master delicacies such as baguettes and croissants.
The designer wanted to create something that resembled a real-life dolls house, or, quoting his own words, "the cross sections of buildings you might see in the 20th-century encyclopedias, with very different atmospheres from one floor to the next." Staying at this hotel would be an art lover's dream, as each bedroom offers eye-catching artworks and bright colors for which Lacroix is known.
Take a Street Art Tour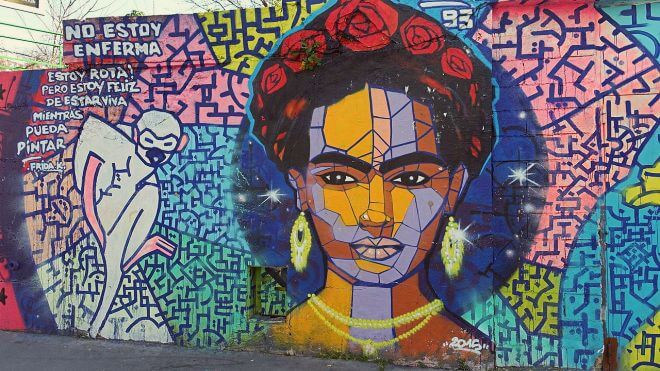 Paris for Art Lovers: Take a Street Art Tour – Photo Courtesy: Guilhem Vellut @ Flickr
Many buildings in Paris have become canvases for graffiti artists. Stroll on Rue Oberkampf and keep your eyes off the pavement and you will see art popping up all the time on cornices of buildings, shutters, and urban furniture. A really good spot to see some fresh work here is Le Mur, where a new artist is invited every week to "reinvent the wall" in a performance that attracts a large public.
Also, consider taking a guided-tour by Street Art Paris. This organization offers various walks which highlight the wealth of street art and graffiti in the city and let you explore new neighborhoods that may have otherwise remained hidden.