Some call it poor but sexy. Berlin is a rough and faded canvas that attracts street artists from all over the world. Incorporated in new urban projects to increase the value of the buildings or scribbled on the facades with blue and red hieroglyphs, graffiti and street art are perhaps the only possible gateway to this elusive capital city, with varied approaches and meanings though.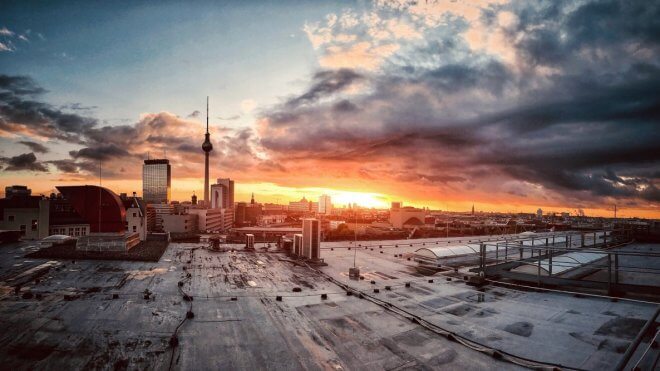 Berlin Trails: Free Street Art Along the Way – Photo Courtesy: Daniel Brosch @ Unsplash
Cold and dark for most of the year, decadent, in constant transformation and firmly anarchic, Berlin seems an oversized art studio rather than a place to live. The underground is expensive, puzzling, and dirty. The distances often appear unbridgeable. Even going shopping is a sort of nightmare with all those horrible discount stores and Turkish mini-markets. Yet, you can not help but be sucked into the vortex and enjoy it, at least for a few days.
Four New Urban Trails to Explore Berlin by Foot
Need some hints? Try with our 4 new Berlin trails which are clearly filled with street art. Two in particular: Street Art Masters #1 and Humboldt-Siemens. The first trail touches, among others, Jadore Tong's "!" mural and a colorful project by GRACO Berlin, to then reach Urban Nation's art mile and its museum.
At first glance, keeping street art in captivity may seem a risky idea, but truth is that the combination of in and out works splendidly and the harmony between these two dimensions serves to accentuate the extraordinary talent of artists like Case Maclaim, JR, Mimi Scholz, Okuda, Sandra Chevrier, and Shepard Fairey.
Anyway, discovering by chance some new paste-ups by Blek le Rat or having a quick chat with Pappas Pärlor who is relaxing on the sidewalk after completing his work is just priceless. In Bülowstraße street art remains free and open to all.
Urban Nation is also the protagonist of the second trail, which aims to draw an imaginary line between two great Berliners such as Humboldt and Siemens. Six spectacular murals stand out in Art Park Tegel, like giant markers on the map.
Annihilating Banksy: Shop Until You Drop (For Real)
It's a totally different story for "The Art of Banksy" exhibit, on display until Jan 15, 2019, at the Bikini Berlin shopping center in Charlottenburg. Sixty collectors' works, but mainly tons of awkward souvenirs, in a context where the dominant messages are "Treat Yourself to a Little Shopping Therapy" and "Give Girls the Right Shoes and They Can Conquer the World".
Bansky's decline probably began with the "Better Out Than In" series in New York City, in which a smug version of the ineffable masked artist dangerously started to play with the "evil system" and eventually got fascinated by it.
Although he has lost credibility and is now a brand like many others, such a shabby treatment makes no sense. Or perhaps we just need to grasp the irony, that reaches its climax when, right before leaving, a sign warns us that "Whole Exhibition Area Is Monitored by Visible and Hidden CCTV Camera Systems." Whatever the case, if there is a price tag attached, it cannot be street art.
P.S.: If you are looking for a brighter and more natural perspective on the city and its surroundings, you might be interested in "Take Me to the Lakes", a collection of fifty bodies of water in and around Berlin for a refreshing break from the urban jungle.