A Caribbean vacation is often envisioned as sipping from a coconut while reclining in a deckchair on a white sand beach. That image is encouraged by the "sun, sand, and sea" tourism catchphrases typical of many Caribbean countries, including my homeland Jamaica, aka "the island of All Right".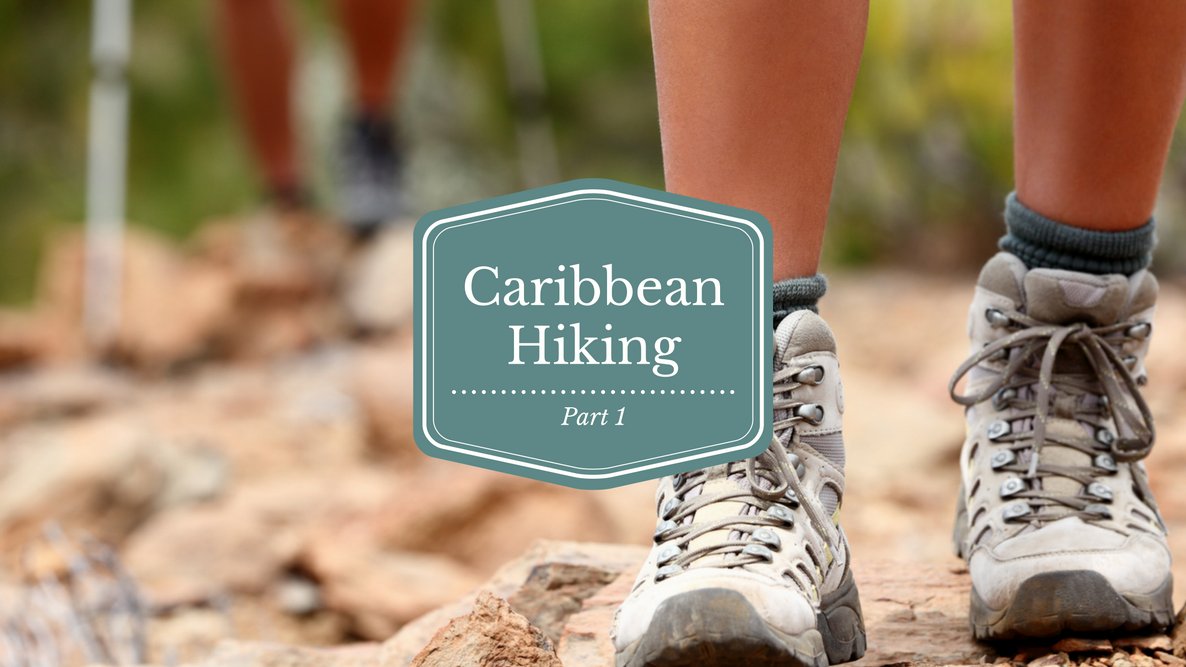 However, one's vacation need not be limited to the coastline. The rugged mountains offer respite from the unforgiving summer sun. Hidden in the mountains are a number of hiking trails through tropical woodland which house beautiful flora and fauna, many of which are endemic to their respective nation. There are waterfalls tucked away in these hillsides which you will likely have to yourself once you are patient enough to find. There's something off-the-beaten path for every kind of traveler and it's definitely not as expensive as you think.
Hiking in Jamaica
Jamaica is the largest English-speaking island of the Caribbean. With verdant mountains running through the island's interior, the hiking possibilities in the so-called "Land of Wood and Water" are endless. Jamaica's mountains are rich with waterfalls, rivers, and endemic plants. The mountains conceal Jamaica's endemic fauna such as the swallowtail hummingbird and the Jamaican Giant Swallowtail butterfly, the largest butterfly in the western hemisphere.
The Blue and John Crow Mountains National Park in the eastern end of the island is unique for its vivid maroon history & culture, telling the tale of grand marronage by then enslaved Africans and African descendants during colonial time. It is also the nation's first UNESCO world heritage site. Almost half of the island is mountainous and lies greater than 1,000 feet (305 m) above sea level. Therefore, it's time to put up the sand-covered sandals. Let's hike.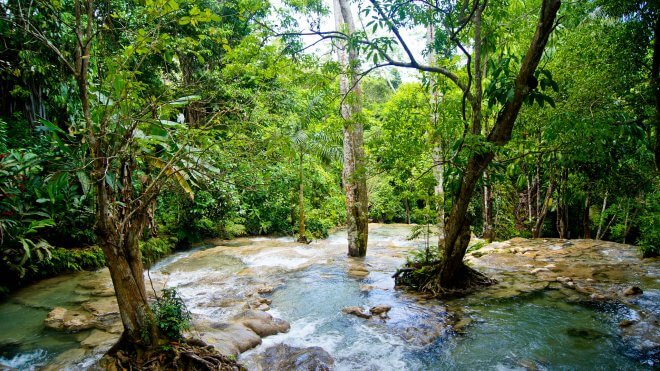 Caribbean Hiking / Hiking in Jamaica – Waterfall Hike – Photo Courtesy: Evo Flash @ Flickr
Cinchona Botanical Gardens, St. Andrew · View on Map
Found around 1,500 m above sea level, you can decide to drive for the first 1,200 m then hike the remaining distance. The views are absolutely stunning from one of the Western Hemisphere's highest botanical gardens. Get a break from the scorching sun in a cool, scenic, and under-explored spot.
Blue Mountain Peak, Portland · View on Map
Blue Mountain Peak is Jamaica's highest point at 2,256 m above sea level. If you begin hiking at the last point accessible to vehicles known as Jacob's Ladder, you will have a five hour walk to the peak. Most adventurers attempt this at night in time to greet the sunrise which is fairly consistent at 5:30 am year-round (local time, GMT -5). On the way back, elfin forest and high montane woodland come alive in the awakening morning light. Don't be fooled by the tropical climate though! Dress warmly. Annual temperatures at the peak average 13° Celsius.
Fish Dunn Waterfalls, Portland · View on Map
Deeply hidden in the northern Blue Mountains is this beauty. It is difficult to access at times because the path to it is often overgrown. If you are perseverant, you will be rewarded with the cold Fish Dunn Waterfalls, a gentle cascade along the Mabess River in Silver Hill, just above Buff Bay, Portland.
Cockpit Country, Trelawny · View on Map
With a terrain resembling an overturned egg carton, the Cockpit Country is for the more seasoned hiker. It is home to Jamaica's largest contiguous rainforest, the endemic Jamaican black-billed amazon parrot, and the maroon town of Accompong, nestled deep in the hills and pulsating with a colourful history.
Discovery Falls, Hanover · View on Map
Located in Western Jamaica, the Discovery Falls is roughly 20 minutes away from the renowned white sand beaches of Negril. The more adventurous can challenge themselves to a zipline 12 m above ground through 300 m of tropical rainforest. If not, take a stroll along scenic paths hugging the hillside then wash off the humidity of the forest in this tiny but refreshing waterfall.
Hiking in Haiti
This island's name makes no secret about its fit-for-hiking terrain, as Haiti means "Land of High Mountains". Haiti occupies three-eighths of Hispaniola, the second largest island in the Caribbean after Cuba, and shares a border with the Dominican Republic which occupies the larger portion of the island. It is a francophone territory with French and Kreyòl Ayisyen (a French-based creole) as its two official languages. Put aside any negative impression you may have of Haiti and enjoy unspoilt natural beauty in the Caribbean's most mountainous nation, complemented by a vivid culture and warm, charming people.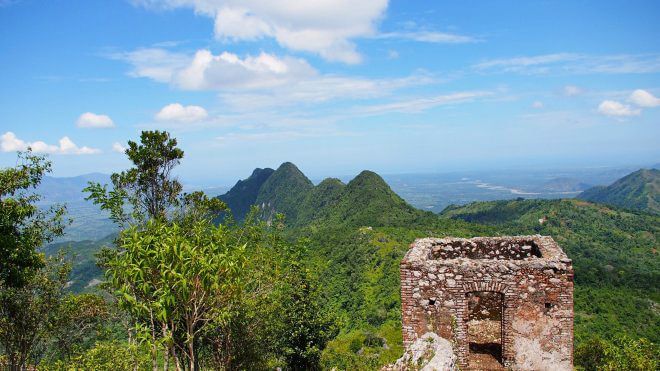 Caribbean Hiking / Hiking in Haiti – Citadelle Laferrière – Photo Courtesy: Steve Bennett @ Flickr
Bassin-Bleu, South-East Region · View on Map
Bassin-Bleu is a remote waterfall nestled in the hills of Jacmel, a commune in south-east Haiti. There is a well-marked trail to the basin which can be easily found from directions of any local. Victorious hikers can spend the rest of the day jumping from the falls and swimming in turquoise water, shaded by the canopy of the tropical vegetation. Plan ahead with a local resort to ensure you are able to travel on your desired day, as the basin is restricted to minimal tourists each day to preserve the site's environmental integrity.
Pic la Selle, West Region · View on Map
Clocking 2,680 m above sea level, Pic la Selle is Haiti's highest point and the Caribbean's third highest peak overall. It is situated in the Ouest Department and forms part of the Chaîne de la Selle mountain range. The Jacmel commune is a good place to start. Arrange for transport to Mare Rouge, the closest village to the peak trail. Begin your hike here after some good rest. Marvel at the cloud covered slopes, the transition from tropical woodland to high montane pine forest and the invincible feeling that you have conquered a mountaintop.
Saut-Mathurine, South Region · View on Map
Saut-Mathurine is the largest waterfall in Haiti. It receives its source of water from the Rivière de Cavaillon, gushing from La Hotte Biosphere Reserve. This one involves more driving than time on foot, however, even the best of hikers need some rest at times. Give your feet (and mind) a break as you swim and paddle in the cold refreshing pool found at the base of the waterfall.
Citadelle Laferrière, North Region · View on Map
Citadelle Laferrière is a colossal stone fortress in Northern Haiti, situated atop Le Bonnet de L'Eveque mountain. It was built between 1805 to 1820 in a bid to protect Haitian borders from a feared French invasion shortly after declaring its independence. It's one of the largest fortresses of the Americas and was awarded UNESCO's World Heritage status in 1982. This Haitian symbol of strength and power offers unabashed views of Cap-Haïtien and the ocean in the north.