In the aftermath of World War II, William Faulkner called the automobile the true "national sex symbol" of the United States. Yet it is here that only two decades later the modern greenway concept has developed, generating a movement that now involves hundreds of civic groups across the country.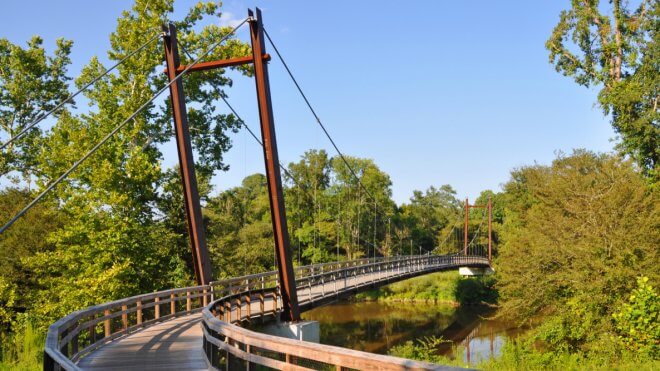 Neuse River Trail (Raleigh, NC) – Photo Courtesy: James Willamor @ Flickr
When it comes to US greenways and trails, the choice is so vast that we decided to ask for help to Charles Flink, a North Carolina-based award winning author, landscape architect, and environmental planner. He is a Fellow in the American Society of Landscape Architects (ASLA) and is widely regarded as one of America's leading greenway planners and designers having completed projects in 250 communities within 27 states. So, here are his ten favorites.
#1 East Coast Greenway, Maine to Florida
3,000 miles in total length, with more than 700 miles that are off-road greenway segments. Some of the longest continuous segments are:
#2 Katy Trail State Park, Missouri
From historic St. Charles west to Clinton, Missouri. 240-mile route, much of it along the Missouri River. Visit historic rural towns, connect to the State Capital in Jefferson City, link to Columbia, MO municipal trails and to the Great Rivers Greenway district in St. Louis. Katy Trail is part of the American Discovery Trail.
#3 Minneapolis-St. Paul Metro Greenways
More than 200 miles of interconnected greenway trails. My favorite ride is the historic Chain of Lakes trail network that one can connect with in downtown Minneapolis. It is one of 7 districts along the Grand Rounds National Scenic Byway, America's longest continuous system of public urban parkways.
#4 Denver's Cherry Creek Greenway
One of the older greenway efforts in the United States, the Cherry Creek corridor is a network of greenways throughout Denver Metro. Travel from downtown out to the suburbs, all on a network of carefully planned trails.
#5 Portland, Oregon's Greenway System
More than 1,200 miles of interconnected bike trails and greenways span the metro region. One of the most bicycle friendly regions in the United States. Travel from the center of Portland, along the Willamette River and out to the suburbs, all by bike and always on designated and well-maintained pathways.
#6 San Francisco Bay Area Trail
500-mile hiking and biking trail around San Francisco Bay, linking 9 counties and 47 cities. 225 miles are paved and 127 miles are natural surface trails. When finished, the Bay Trail will allow walking or cycling along the entire shoreline.
#7 Greater Grand Forks Greenway
A 2,000 acre greenway between Grand Forks in North Dakota and East Grand Forks, Minnesota along the banks of the Red River. This project was originated by the 1997 flood event that devastated both communities. The Greenway has become the centerpiece of life in both communities. A fabulous amenity.
#8 Anne Springs Close Greenway
A 2,100 acre privately operated greenway (one of the few in the nation) in Fort Mill, South Carolina. Managed by the Leroy Springs Foundation. A spectacular landscape that reveals more than 250 years of American history. Visit on Earth Day in April and enjoy the variety of activities that take place around the area.
#9 Grand Canyon Greenway
The best greenway system within a National Park, with more than 13 miles of paved, interconnected trails along both the South and North Rims. The South Rim Greenway trail extends from Hermit's Rest to South Kaibab Trailhead. The North Rim Greenway traverses the peninsula from Grand Canyon Lodge to the North Kaibab Trailhead. This is the best way to experience the Grand Canyon along the Rim and get away from the crush of summer time visitors.
#10 The Razorback Regional Greenway
New edition to the nation's great greenways. A 36-mile regional greenway connecting 6 communities in Northwest Arkansas. My advice: stay at the 21c Museum Hotel in downtown Bentonville; plan at least a day to visit the Crystal Bridges Museum of American Art; rent bikes from Phat Tire and ride on an off-the-road, spectacular urban greenway system. The downtowns are full of unique restaurants, craft brewery's, and shops. Visit the Walton Museum in Bentonville.
More greenways and trails are available on TrailLink, American Trails, and RTP. To learn about developing a greenway or multi-use trail plan, read Greenways: A Guide to Planning, Design and Development and Trails for the 21st Century by Charles Flink.