Few experiences can give a sense of freedom and adventure as deep as a summer hiking trip. Between June and August, most of us also have more time for what we really like to do, leaving behind all stress and strains.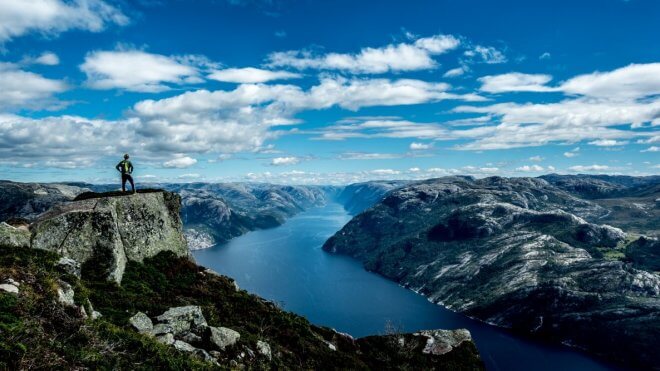 Summer Hiking Trails: Norway's Wild Landscape – Photo Courtesy: Carl Cerstrand @ Unsplash
If you are afraid of the heat, don't worry. The following list of summer hiking trails includes several cooler destinations, such as the Scandinavian countries and Switzerland. Another common trait in the list is a prevalence of wilderness areas, finally accessible and fully enjoyable during this time of the year.
For the rest, it is always advisable to start early, check the weather, bring extra clothing, stay safe and hydrated, and allow for frequent breaks. But you already know that. Summer hiking should be a treat for our senses as well as our health.
With a 21,500 km network of connected greenways, waterways, and roadways, the Trans Canada Trail is the longest recreational trail in the world. Crossing it from the Atlantic to the Arctic would take over two years, but you can just pick a section and start planning your summer hike. Read these stories to get inspired.
The Walker's Haute Route is the "lightweight" version of one of the world's classic hikes from Chamonix in France to Zermatt in Switzerland. The trail stays below 3,000 meters and takes up to 16 days of walking, surrounded by an Alpine scenery of unparalleled beauty. While challenging, it's safe and non-technical.
The King's Trail (Kungsleden) is a legendary hiking route of about 440 km, that crosses Sweden from north to south. It passes through the Vindelfjällen Nature Reserve, one of the largest protected areas in Europe.
Hiking the Gobi Desert is simply an irresistible temptation for adventurous travelers. This great desert is crossed by several trade routes, some of which have been in use for thousands of years. Today is one of the best trekking to be found in Asia, giving a chance to truly experience the Mongolian nomadic culture.
Laugavegur is a trekking route in South-West Iceland from the hot springs area of Landmannalaugar to the glacial valley of Þórsmörk. This spectacular 53 km hike can be completed in 2-4 days between mid-June and mid-September.
Lying between Oslo and Bergen, the Hardangervidda mountain plateau is criss-crossed by a vast network of marked trails. If you don't mind spending 12 days in Norway's wild nature, try this 300 km hut-to-hut round trip in July/Aug.
The Itäraja Hiking Route consists of 160 km of trails traversing wilderness landscapes in the eastern Kainuu region of Finland. The many points of interest along the route include Viena Karelian villages, Murhisalo, Martinselkonen, the Winter War memorials, and the Hossa Värikallio prehistoric rock paintings.
Located in the Giant Mountains, the Polish–Czech Friendship Trail runs on both sides of the Czech–Polish border along the main ridge and traverses all its summits. It's a moderate trek of nearly 30 km with varied weather conditions.
Let's go into the wild, hiking the Carpathians in Romania! Europe's wildest mountains offer plenty of choice, from short, popular half-day excursions, to epic long distance hikes on remote trails. One of our favorite routes is in the southern area, between the Timis and Olt rivers, but you can find more here.
The E8 European long distance path crosses all of Slovakia from east to west following the national hiking trail Cesta Hrdinov SNP. Among its sections, the Stefánikova Magistrála (114 km) is less walked and particularly rich in history.
Discover our 50 selected Day Hikes for Summer: Canada, Czech Republic, Finland, Iceland, Mongolia, Norway, Romania, Slovakia, Sweden, Switzerland.
Editor's Note: This post was originally published in June, 2017, and has been updated to revise the list of trails, include additional items, and keep it fresh and accurate.