When landing in a city with a laptop under the arm, a cup of coffee in the other hand; hunting out the logical location for your digital nomad lifestyle isn't as straightforward as you think. We hope that this guide will be of use.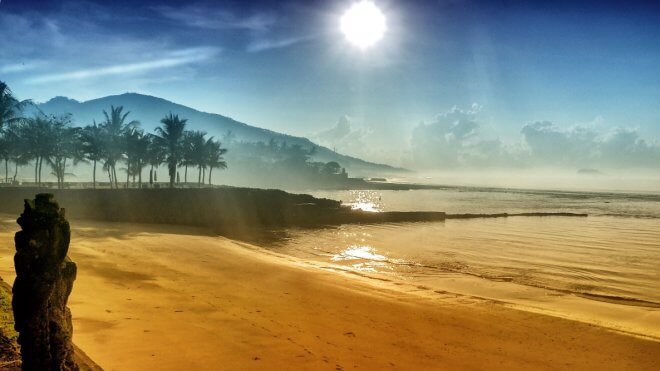 A Digital Nomad Guide to Bali, Indonesia – Photo Courtesy: Martin Fuhrmann @ Pixabay
Accommodation, work locations, transportation, and food are some of the many issues to consider, not to mention the challenge of finding a reliable internet connection and phone source, and perhaps doubling up the location as your home base. Let's face it, a digital nomad certainly has its perks, but it also has its drawbacks. And for newbies, the challenges can be downright crushing.
Staying in Bali is no different to staying anywhere else. The sunsets on the horizon and waves crashing on golden sands are idealistic enough, but setting yourself up with a digital office requires special attention and forethought.
However, the longer you stay in one place, the easier it becomes; the higher the chances of fitting in, finding routine and some sort of normalcy start to arise. A 30-day stay is typical of a digital nomad's lifestyle and allows for this routine to be established. To settle into a new location like Bali, unless you have frequented the area before, takes some time. Generally, as a digital nomad, finding the right accommodation is essential to conducive work output. It will help you find your daily beat in the life of a foreign country, and it'll give you a place to call home.
Accommodation: Villa vs. Hostel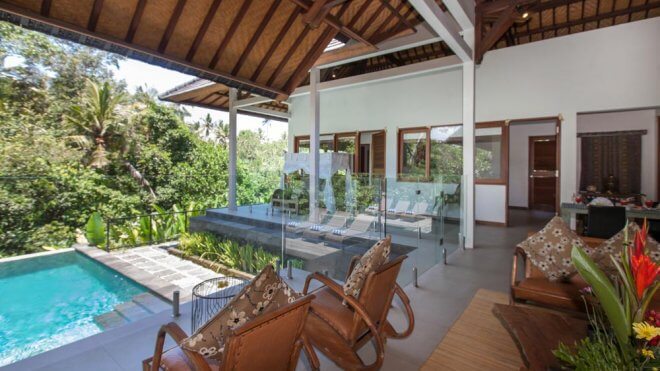 Villa Umah Wa Ke's Casual Lounge – Photo Courtesy: Taman Baru Bali
Accommodation is best suited to the digital nomad lifestyle when the internet connection is reliable and the surroundings are quiet. Staying in a hostel, albeit the cheap costs associated with one are attractive, finding decent Wi-Fi is not a guarantee, and the noise levels are often deafening. Renowned for its "loud and busy" atmosphere, full of eager school leavers, the hostel is prone to the "party animal" tenant, and though the company can often be pleasant, it's more of a distraction from work. Self-discipline needs to come into play.
While in Bali, consider staying in a Villa. The normally peaceful and friendly facilities of this popular alternative are affordable for what you receive. And if you opt for a one month lease, generally you can find some seriously affordable deals with up to half price sales, or other daily rate discounts. Staying the month in a Villa also cuts down on the overwhelming feelings of being out of sync.
Bali has no shortage of Villas, ranging anywhere from 750 to 1500 USD for the month, with everything included. If you're staying in Kuta, Villas can start from around $55 per night on travelmob, with deals on longer stays of up to 90 days, and includes all mod cons and internet use. The Villas of Bali site offers a list of long term rentals, too, but only some of the accommodation options provided give Wi-Fi accessibility, so do your homework before booking.
Choosing a Villa is generally less expensive, offers better views than that of a hotel or hostel, and is often more welcoming to the demanding digital nomad.
Workspaces, Cafes, and Wi-Fi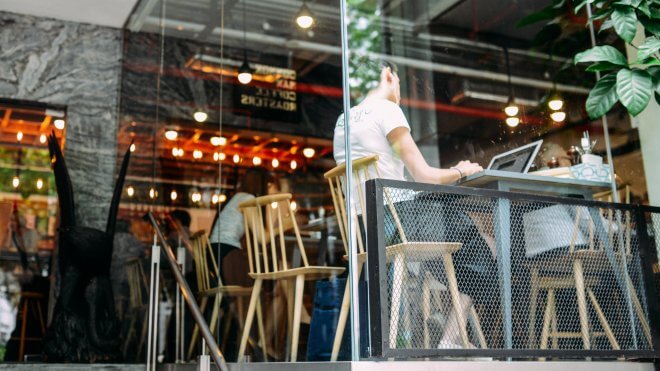 Looking for an Ideal Workspace – Photo Courtesy: Blake Wisz @ Unsplash
Having the ideal workspace goes hand in hand with the right accommodation, but it also goes without saying, that for a digital nomad, a workspace can literally be anywhere you can plug into the internet. Having this in mind, the workspace can extend into the café, library, or poolside. Again, crowds can be a distraction, but the disciplined digital nomad will appreciate a place where they can "people watch" from while enjoying a good coffee or cold beer.
In Bali, there is an abundance of cafes that offer exceptional Wi-Fi provision and power outlets to charge up those digital devices surrounding you. The plus side of finding a local café to stroll to every morning, as you begin your day, adds to your routine and list of friendly faces.
In Kuta, a favourite amongst Western tourists is the 24/7 services of the Brown & Butter Coffee Shop and Coworking Space. Take advantage of their reliable Wi-Fi service, power outlets and great food and beverages. If you have opted to stay in accommodation other than a Villa, the Berry Biz Hotel houses this café, truly making this a one-stop-shop for a digital nomad's needs.
If you are in Kerobokan Kelod, Tuck & Trap is another friendly atmosphere for good coffee, decent Wi-Fi, and power outlets. The quiet area is also a great place to "people watch" during your break. If it's just coffee you want, give Seminyak's The Coffee Library a go. This location also offers a power source to plug into, good cuisine and most importantly, reliable Wi-Fi.
Sleeping and working in a friendly environment has been established. You have your internet, your power source, you are ready to start on those deadlines. But what about transport? Sure, you have access to a taxi service or bus service from your Villa, or you may be based in a town where most of your travel consists of a few blocks on foot. But most digital nomads are in a location for more than just the sights. Networking and meetings, maybe photographing a location to send to your publisher, are all on the to-do list. So how do you get around in Bali?
Transport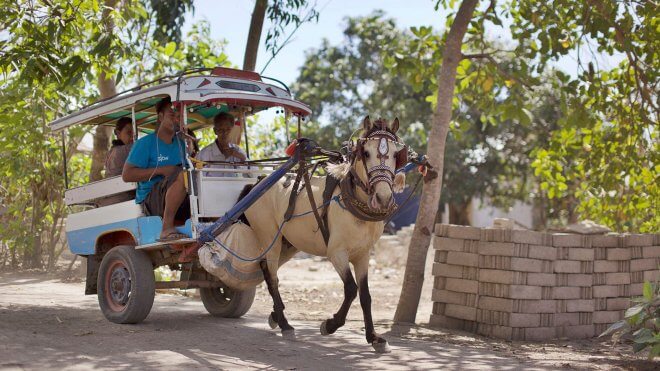 Taking a Ride on the Dokar (Balinese Pony Carts) – Photo Courtesy: Tanel Teemusk @ Flickr
Bali is not a wealthy state. This is to say, Bali's modes of transport, are, well, a little off beat to new visitors. You have the choice of an ojek, a motorcyclist that takes paying customers on the backs of their bikes; a public transport terminal (terminal bis) if you are in a town; or there's a bus or bemo (cramped minivan). If you are in Kuta, you can still find the occasional dokar (pony cart) to catch.
Taxis are cheap and common in the more built up areas of Kuta/Seminyak, and are less of a hassle, as you are not constantly haggling over prices with the driver, something common when privately negotiating a dink on the back of someone's bike. If you do opt for a taxi, the more reputable Blue Bird Taxi company is highly recommended. It also has a handy iOS/Android app.
Scams are in abundance in Bali, so avoid those drivers who do not use a meter, and if opting for the more common ojek, consider the safety risks in the bigger towns. You can also hire a motorbike if you feel confident in your skills.
Food… Playing It Safe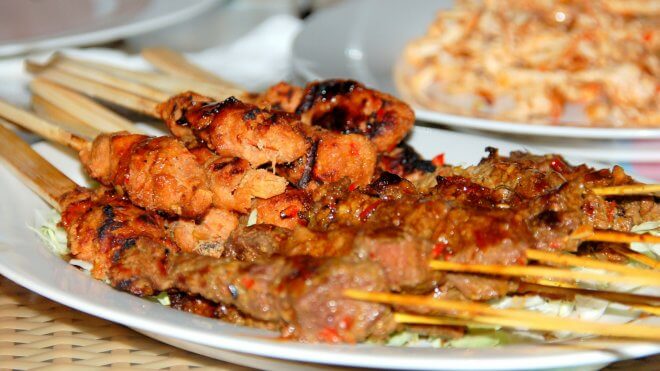 Sate (Satay) Is One of the Most Loved Foods in Bali – Photo Courtesy: Feelgoodpics @ Pixabay
Everything is sorted but the food. One thing to note though, is don't drink the water unless it is from a sealed bottle. That includes brushing your teeth, too, and taking ice with your drinks – unless you're in a reputable bar. "Bali Belly" isn't just a myth, it can cripple you within hours.
But the food is an experience with plenty to choose from. Yes, you will grow weary of nasi goreng before the week's end, but there are other dishes to choose from if you are remaining loyal to the culture. Babi guling (spit roast pig) and its rich stuffing of traditional spices with vegetables; and the sate (satay) varieties are worth a try. You also have a slew of steakhouses to choose from, not to mention Italian, Chinese, and Indian restaurants, if you prefer something more familiar.
Arriving in an unfamiliar city does not have to be a struggle. Turn it into an adventure; doing your homework before you arrive makes all the difference. After all, living the digital nomad's life is nothing short of a privilege.