Nothing says romance like the stars, a fire and bae, throw in a double sleeping bag and you have the ideal romantic weekend getaway. If you're like me and have exhausted every avenue when it comes to romantic dates. I say look no further than the grabbing your significant other and heading outdoors to enjoy a few nights under the stars. Below I'll outline camping ideas for couples, and how they can change up their usual date nights.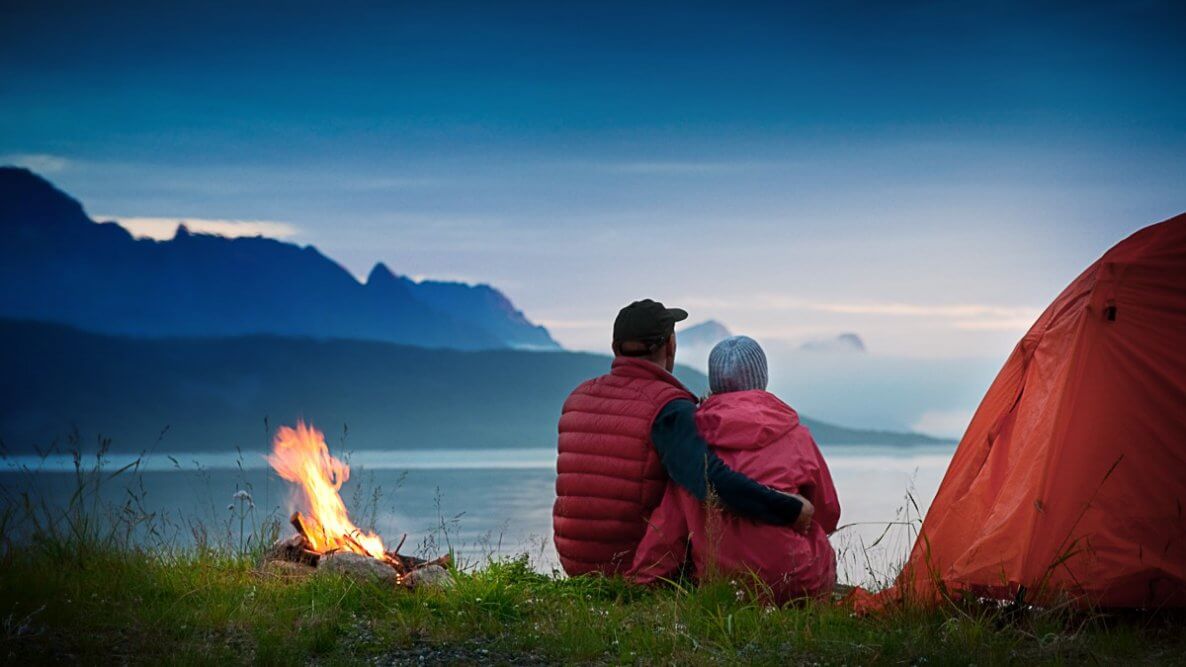 Romantic Camping Ideas – Couple Camping Near Lake – Copyright: varuna
Location, Location, Location – No Filter Needed
For those of you with no previous camping experience, or reservations about the elements, I suggest finding your local campground; in the US, you can visit the National Recreation Reservation Service (NRRS) which provides you with a list of campgrounds in your state, as well as the amenities available there.
For couples about to embark on their first camping adventure, I advise finding a camp with utilities such as bathrooms, and electricity (to ensure your phone is charged for that Instagram moment, just make sure you upload it post-trip).
Disconnect to Reconnect
"There is no wi-fi in the forest, but I promise you will find a better connection." In a world where we are connected 24/7 and never want to miss a moment, it's important to disconnect from the outside world and live in the moment with your significant other; nothing says I love (or like, if you're not quite there yet) you like your undivided attention.
Romance? Check
Before you go embarking on your romantic getaway, make sure you have the following essentials to ensure the romance is at a premium:
Double Sleeping bag, because what's the point of one each?
Cozy blanket, cuddling is advised, but a blanket might just assist you in getting close and comfortable with that special someone
Wine glasses
Speakers, you'll thank me later
Camping Is Intents (Pun Intended)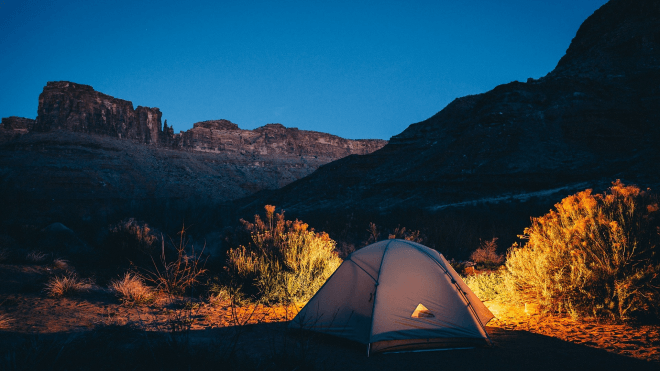 Romantic Camping Ideas – Upper Big Bend Campground – Photo Courtesy: Ben Duchac @ Unsplash
Your tent is your home base so ensure that you have one capable of protecting you and your significant other from the elements. When you are spending the night on the floor the last thing you need is a tent that won't hold up or provide comfort, constant rustling in the wind while you're trying to sleep, no thank you.
Doof Doof, Food Backward
So you have your brand new tent, double sleeping bag, fire starter, wine and bae, what could go wrong then? Somebody forgets the food, don't rely on your inner hunter and gatherer to survive, nothing ruins a romantic getaway quicker than lack of food prepped, packed and ready to eat when you are hours away from the nearest in and out burger. Bring enough snacks and plenty of water.
But Wait, What About the Gym?
Let nature be your gym, explore your surroundings, walk the trails, hike the mountain, trust me when I say the outdoor elements will test you more than the treadmill, just make sure you have your waterproof hiking boots to ensure you stay comfortable while hiking and exploring all that nature has to offer. Couples who sweat together stay together, not only are you improving your health you are building a connection with your significant other, two birds, one stone.
Bear Grylls Who?
So, you like the idea of being at one with nature, but like not really, then glamp up your life. Glamping as it referred to by "those in the know", is for those who prefer more luxurious facilities than those associated with traditional camping.
Looks Like Things Are About to Get Dicey!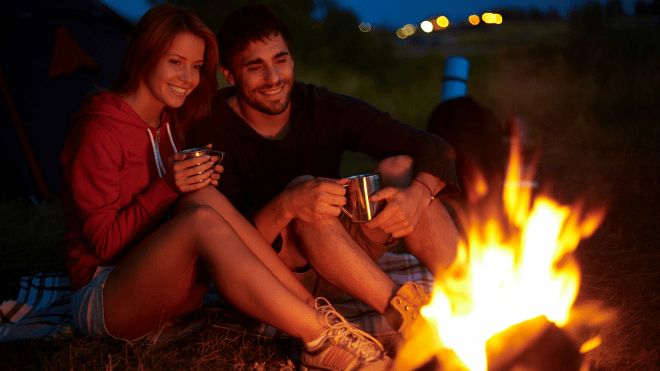 Romantic Camping Ideas – Night in Camp – Copyright: Pressmaster
Once you have explored all the wonders of nature, you've caught and cooked your dinner for the evening; you're settling down to a glass of wine with Drake spitting fire in the background (I told you, you'd thank me for the speaker).
Now what, well roast up those marshmallows and get stuck into a board game, get your collaborative or for those couples who like to live life on the edge, competitive juices flowing with a good board game to see out the night.
Double Trouble
Don't know where to start, how about getting a group together, another couple who enjoys camping or the outdoors. A few extra hands make light work, and the company of another couple or some good friends will help you and your significant other on your first expedition into the wild.
If you're worried about your romantic time being jeopardized, just remember that double sleeping bag and speaker I told you about, and you will be fine.
Passionate from Miles Away
Camping as a couple is a great way of adding excitement and adventure to your relationship. You do not have to spend the w/e or even set up a campsite, plenty of pillows, Netflix and some torches under the night sky for the night is a cheap and convenient alternative to spice up your relationship miles away from home.
Just because you are miles away from home doesn't mean you can't do what you love, if you're a reader at heart, open yourself and your book up to nature. Being comfortable with your partner in uncomfortable surroundings is all part of the adventure, but that doesn't mean you have to make your partner uncomfortable because they don't want to embrace their inner Bear Grylls, enjoy one another's company first and foremost, ease into camping, and do what you can.
Time Spent Camping Isn't Time Wasted; It's Time Invested
There is no greater gift you can give your significant other than your time and attention. Making new memories with your partner is worth more than money and it's the best way to get to know your partner intimately whilst testing your resolve as you battle the elements.
What are you waiting for grab your partner, pack your gear and make sure you bring your sense of adventure with you and enjoy what is sure to be the most fun you will ever have on a date. Now watch your Instagram light up as other couples look on in envy and ask you for your expert opinion.